October 4, 2011
2011-12 Season - Vikings help out local Habitat for Humanity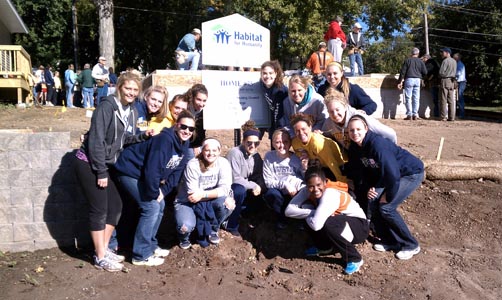 Members of the 2011-12 Augustana women's basketball team have been involved in several community projects this fall. Here they are shown working at a Habitat-for-Humanity house in Davenport, Iowa on Saturday, October 1.
A request from team members to "make a difference" sparked Augustana women's basketball coach Bobbi Endress to get the Vikings involved in community projects. With the start of the 2011-12 season a little more than a month way, the Vikings have pitched in to help around the Quad Cities community.
The latest project was building a home at 824 Charlotte Street in Davenport, Iowa as part of a "Habitat for Humanity" building site. The construction of the house in Davenport was part of the 1000th house celebration in Iowa and 19 members of the Augustana team took part.
"Several team members approached me last year about finding projects where we could get together as a group and work on something meaningful," said Endress, who is in her sixth season as the Vikings' head coach. "This was definitely something that was driven from within and that is always the best way. We did not make this mandatory, it was something that our players embraced and promoted amongst themselves."
Endress received a call from Terry Timmerman of the Quad Cities chapter for Habitat for Humanity last spring. He expressed an interest in getting local colleges involved and Endress immediately thought of the request made earlier from her team.
"In coaching we always talk about helping and serving others," said Endress. "We stress that basketball is just one small part of the whole educational process and this is a great example of that."
On this particular site the Augustana team arrived with the foundation and basement in place and they left with two finished wall frames. Some of the players also helped in lining and securing boards for the pouring of the driveway.
The Habitat for Humanity project was not the first service-oriented project that the Vikings have participated in this fall. They volunteered at the Two Rivers YMCA in Moline, Illinois on September 21 and 28 where they helped put on a basketball clinic for 20 pre-kindergarten children. They will go back again in two weeks to put on another one.