Professor invited to Taiwan's 100th celebration
October  04, 2011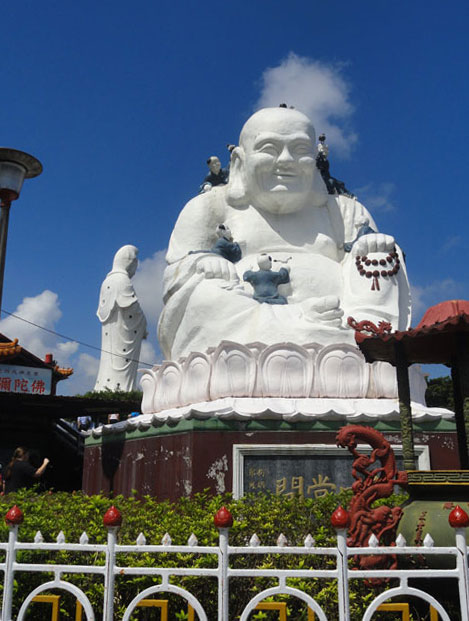 Augustana students visited the Happy Buddha (in front of Guanyin, Buddhist Goddess of Mercy) overlooking the port at Keelung, Taiwan, in 2010.

Dr. Norm Moline
1,000 Augustana students have traveled to the country

Taiwan (officially the Republic of China) will celebrate its 100th anniversary on its national day Oct. 10. Augustana's Dr. Norm Moline '64 will be there at the invitation of Taiwan's Ministry of Foreign Affairs.
"I received this invitation because through Augustana's East Asia term, my colleagues and I probably have brought more students to Taiwan since 1974 than anyone in the U.S.," said Dr. Moline, Hamming Professor of Geography and a director for the college's East Asia term.
Taiwan has been included in all 14 of the college's triennial East Asia terms. About 1,000 Augustana students have spent between 10 days and two weeks in Taiwan as part of the program. (See student photos from Augustana's most recent trip to East Asia.)
In addition, Dr. Moline has directed four ASIANetwork-sponsored College in Asia institutes for faculty and administrators from 25 U.S. colleges and universities, which, as part of the program, included visits with officials from government ministries and professors from Taiwan National University.
Taiwan's national day, which is called Double Ten, stems from the famous Wuchang Uprising in Wuhan, China, on Oct. 10, 1911, which quickly spread and led to the end of almost 4,000 years of dynastic rule in China in 1912.

Dr. Moline was invited to several special events affiliated with Taiwan's centennial anniversary celebration, including a special audience with President Ma Ying-jeou at the Presidential Office before the morning program and parade in front of the grand Presidential Office Building in Taipei. Dr. Moline and his wife, Janet, also will attend an official state reception in the afternoon and a special celebrative musical in the evening.