October 4, 2011
2011-12 Season - Augustana to host swim clinic featuring two gold medalists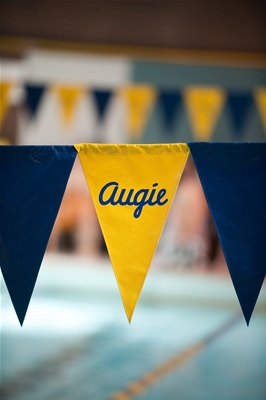 The Carver Center Pool at Augustana will be the site of the Mutual of Omaha Breakout! Swim Clinic on Sunday, November 6. The clinic, which will run from 12:00 noon until 4:00 p.m., will feature Olympic Gold Medalists Ian Crocker and Josh Davis.
A pair of Olympic gold medal swimmers will headline the Mutual of Omaha Breakout! Swim Clinic on Sunday, November 6, 2011 at the Carver PE Center on the campus of Augustana. Josh Davis and Ian Crocker will spearhead the clinic, which will be a four-hour session from 12:00 noon until 4:00 p.m. for swimmers between the ages of eight and 18.
The event will have in-water stroke technique and the cost is $75.00 per person. The registration for the Mutual of Omaha Breakout! Swim Clinic is currently open and in order to register, pariticipants can contact Scott Johannsen, Augustana head swim coach, at (563) 343-5157 or e-mail at scottjohannsen@augustana.edu.
Davis and Crocker will open the clinic with inspirational messages and immediately following the swimmers will hit the water. Davis and Crocker will provide in-water demonstration and instruction on swim strokes and techniques. Some participants may even have a chance to test their strokes in a race against the Olympic champions. Concluding the event, the swimming champions will be available for autographs and photos.
Davis made history in 1996 by winning three gold medals at the Atlanta Olympic Games. He was also an Olympian in 2000 at Sydney, where he served as the captain of the United States contingent and won two silver medals. He went on to break the American record three times in the 200 freestyle. With five medals and two Olympics under his belt, he has become a great ambassador for the sport and is working at pioneering the way for the next generation of professional swimmers.
Crocker broke onto the scene by winning a gold medal at the 2000 Olympics in Sydney, Australia while being a recent high school graduate. Known as Michael Phelps greatest rival, Crocker held the world record in the 100 meter butterfly from 2003 until 2009. He also led the United States medley relay to gold medals in 2004 and 2008, making him a three-time gold medalist. As one of the most dominant butterflyers and sprinters in the history of swimming, he has a passion for teaching young people and also for playing the guitar.
The Mutual of Omaha Breakout! Swim Clinic visits over 70 cities a year and is a unique experience to inspire and motivate a new generation of swim stars. As an official sponsor of USA Swimming, Mutual of Omaha actively supports the sport on all levels, from local clubs to the national team.