Founder of High Arctic to discuss his research from Greenland
October  03, 2011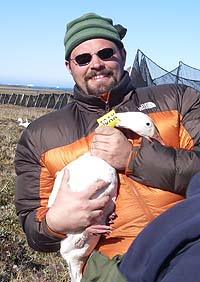 Dr. Kurt Burnham
Having spent his summers doing avian research in Greenland for nearly two decades, Dr. Kurt Burnham, founder of the High Arctic Institute, is an expert on peregrine falcon and gyrfalcon populations. Dr. Burnham will discuss his research and environmental change in a lecture on Thursday, October 13, at 7 p.m. in Room 102 of the Robert A. and Patricia K. Hanson Hall of Science (726 35th St.), on the Augustana College campus. Admission is free, and the public is invited.
In his lecture, titled "Birds and Bergs: Twenty Years of Avian Research in Greenland," Dr. Burnham will share the highlights of his research, including tracking Arctic terns, mercury contamination of seabirds, eider duck population expansion and the northward expansion of peregrine falcons in Greenland. Along with his insights on the birds in the High Arctic, Dr. Burnham will share what he thinks is happening to the environment.
"While publishing results in scientific journals is critical, I believe it is just as important to be able to convey to the general public the results and implications of scientific research so that they are better able to make decisions regarding the environment in the future," said Dr. Burnham. "Almost every year we hit a new record high temperature. No scientific paper, movie, book or interview will ever be able to give justice to the changes that are occurring."
Dr. Burnham received his bachelor's in biology from Albertson College of Idaho, and he earned his doctorate of philosophy in zoology from the University of Oxford, England. His findings have been published in numerous journals, including Molecular Ecology and Wildlife Society Bulletin.
In 1997, Dr. Burnham worked for The Peregrine Fund as the Arctic projects director. In 2007, he created the High Arctic Institute. He also is a member of the advisory board for the Augustana Center for Polar Studies, which addresses topics such as polar ecosystems, polar earth history and global warming. The Augustana Center for Polar Studies supports polar research for both faculty members and students at Augustana.
Sam Schlouch
Senior Communication Director
(309) 794-7833
samschlouch@augustana.edu