October 2, 2011
2011-12 Season - Thorson-Lucken Field dedication on October 6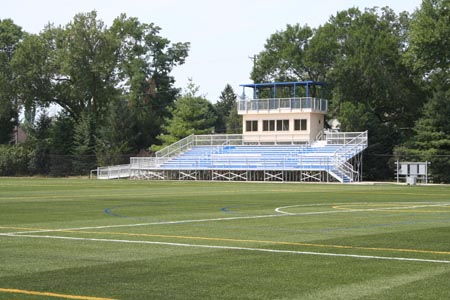 Thorson-Lucken Field, which is the home for Augustana soccer and lacrosse teams, will be dedicated on Thursday, October 6 at 5:00 p.m.
Even though it has hosted 10 soccer matches and countless lacrosse and soccer practices since the middle of August, the official dedication of Augustana's Thorson-Lucken Field is set for Thursday, October 6 at 5:00 p.m. The 1.3 million dollar facility is used for the soccer and lacrosse teams at Augustana and hosted its first varsity contest on Thursday, September 1 when the Vikings' women's soccer team played Wartburg.
The honored guests at the dedication, which will be the kick-off for Augustana's annual board of trustees fall meeting, are the Thorson-Lucken family. John and Mary Lucken, both 1962 graduates of Augustana, provided the lead gift of $700,000.00, which along with several other generous donations, provided the impetus for the project.
"We are pleased that so many Augustana students, present and future, will benefit from this facility," said Mary Lucken. "Just as Augustana has long been committed to providing a top-notch education, the opening of this venue shows that the same kind of commitment to those involved in the sports of soccer and lacrosse."
Thorson-Lucken Field is a dedicated, stand-alone facility intended for use by both the Vikings' lacrosse and soccer teams. The facility is located directly west of the PepsiCo Recreation facility on 30th Street. The surface is 2 ¼ inch Ultrablade MM installed by Sprinturf. Lighting was done by Musco Lighting and the scoreboard was provided by Daktronics. A press box and bleacher seating for 300 are from the Dant-Clayton company. Valley Construction, a local company, served as the general contractor.
"This is a tremendous facility," said Mike Zapolski, Director of Athletics at Augustana. "Our student-athletes in both lacrosse and soccer have already benefitted from its use and we are grateful to John and Mary Lucken for this generous gift."
Although the facility is an athletic venue, there is a link to rich academic tradition at Augustana. A boulder sits on the Southwest side of the field and welcomes fans and players alike through the main gate. It is dolomite and was quarried from the same quarry as the stone used to construct Old Main over 100 years ago. Considering that John Lucken's field of study at Augustana and his chosen professional field was geology, it serves as a fitting tribute in the link between student and athlete.
There is a plaque on the boulder that reads: Thorson-Lucken Field…"Dedicated to the Augustana tradition of ethics and excellence through good sportsmanship."
Along with the board of trustees and 16 members of the Thorson-Lucken family, team members from men's and women's lacrosse and men's and women's soccer will be in attendance on Thursday evening.