October 1, 2011
2011 Season - Vikings drop CCIW opener at Carthage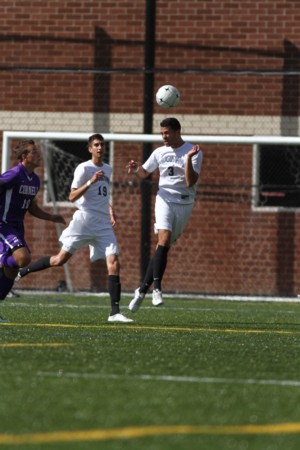 Junior Jason Beckus had two of Augustana's five shot attempts in a 1-0 loss at Carthage Saturday.
KENOSHA, Wis.-Carthage's Michael Dombrowski scored the game's only goal in the 72nd minute Saturday to give Carthage a 1-0 win over Augustana in both teams' 2011 CCIW opener. The hosts outshot the Vikings 16-5 to improve to 6-4-1 on the season. Augustana is now 8-3 on the year.
Dombrowski's goal was his sixth of the season and came on an assist from Mike Heika. The Carthage defense allowed the Vikings just one shot the rest of the way, an attempt by Jason Beckus (Neuqua Valley HS, Naperville, Ill.) in the 88th minute. Beckus had two of Augustana's five shot attempts. The Red Men became the first opponent this season to get off more shots than the Vikings in a match this year.
Tyler Cowherd (Bettendorf HS, Bettendorf, Iowa) went the full 90 minutes in goal, recording five saves, while his counterpart for the Red Men, Milan Tijanic, made four saves in the shutout win.
On Tuesday, October 4, the Vikings, currently ranked sixth in the Central Region, will be in Elsah, Illinois to face Principia. The match against the Panthers is scheduled for 7:00 p.m.