October 1, 2011
2011 Season - Shrigley goal is difference in CCIW opener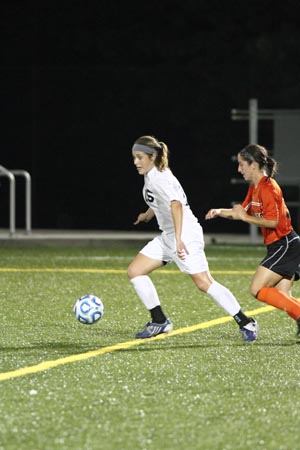 Bridget Shrigley scored the lone goal in Augustana's 1-0 win over Carthage in the College Conference of Illinois & Wisconsin opener on Saturday night in Kenosha, Wisconsin.
KENOSHA, Wisconsin – Augustana opened the College Conference of Illinois & Wisconsin women's soccer campaign with a hard-fought 1-0 win over Carthage on Saturday, October 1 in Kenosha, Wisconsin. The Vikings, ranked ninth in the latest NCAA Division III Central Region poll, moved to 6-3-1 overall while Carthage fell to 4-5-1.
Sophomore Bridget Shrigley (Wheaton-Warrenville South HS, Wheaton, Ill.) scored the lone goal of the game, her first of the year, at the 76:00 mark of the contest. She was assisted on the goal by junior Morgan Olsen (Downers Grove North HS, Woodridge, Ill.). It was Olsen's second assist of the season.
The Vikings came up big on defense in recording their fifth shutout of the campaign. Senior goalkeeper Kayla Radloff (West Chicago HS, West Chicago, Ill.) was outstanding as she recorded nine saves. Carthage actually outshot Augustana 13-12 in the contest. In the second half the Lady Reds held a 10-5 advantage in shots attempted. The Vikings led in corner kicks 4-2.
Augustana will be in action on Tuesday, October 4 at Wisconsin-Whitewater with the match set for a 7:00 p.m. start.