Christian activist Shane Claiborne to speak
September  30, 2011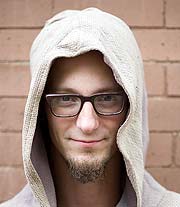 Shane Claiborne
What would the world look like if we took Jesus seriously? Shane Claiborne will discuss this question, as well as peacemaking, social justice and more in a free, public lecture entitled "What if Jesus Meant the Stuff He Said?" Claiborne will share his message on Thursday, October 6, at 10:30 a.m. in Centennial Hall (3703 7th Ave.) at Augustana College.
"Shane shows that young people can make a difference," said Richard Priggie, Augustana College's chaplain. "He has made a courageous decision to represent Christ in the inner city and to live like Jesus."
Claiborne is a founding partner of The Simple Way, a faith community in Philadelphia, which practices living simply as a commitment to God and love. According to The Simple Way's website, it "has helped birth and connect radical faith communities around the world."
He graduated from Eastern University, St. Davids, Pa., did graduate work at Princeton Theological Seminary, Princeton, N.J., and even worked alongside Mother Teresa in Calcutta for 10 weeks.
Claiborne also spent three weeks with the Iraq Peace Team in Baghdad. A bestselling author, Claiborne wrote The Irresistible Revolution: Living as an Ordinary Radical, a book that illustrates his conversion to a truly Christian lifestyle. He co-authored Jesus for President and Becoming the Answer to Our Prayers. Claiborne's books will be for sale in the Augustana bookstore.
Sam Schlouch
Senior Communication Director
(309) 794-7833
samschlouch@augustana.edu