September 29, 2011
2011-12 Season - Sporting News ranks Vikings third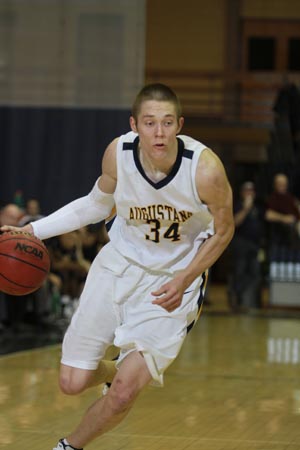 Senior Bryant Voiles was named to The Sporting News pre-season All-American team for 2011-12 as an honorable mention selection. The Vikings were tabbed third in the team poll after finishing 27-4 overall, winning the CCIW regular season and tournament titles and advancing to the Elite Eight of the NCAA Division III national tournament.
With four starters and 11 letter winners returning from last year's 27-4 squad, the Augustana men's basketball team has earned a number three ranking from The Sporting News in that publication's preseason poll. The Vikings checked in behind only top-ranked Virginia Wesleyan, which finished 25-5 in 2010-11, and number two Marietta, which was also 27-4 a year ago.
In addition, 6-9 senior forward Bryant Voiles (Byron HS, Byron, Ill.) earned TSN preseason All-America honorable mention. Voiles was the Vikings' second leading scorer and rebounder a year ago with averages of 12.4 points and 5.8 rebounds a game. He was the team's top three-point shooter, hitting 58 of 140 for a .414 percentage. He was a second team All-CCIW selection and will serve as a team captain this season along with fellow seniors Brian DeSimone (Buffalo Grove HS, Wheeling, Ill.) and Troy Rorer (Bettendorf HS, Bettendorf, Iowa).
Virginia Wesleyan and Marietta both reached the Sweet 16 of the NCAA Division III tournament last year, while Augustana lost in the Elite Eight to eventual national champion St. Thomas (Minn.). Rounding out the top five of this year's The Sporting News preseason top ten were Williams-the only member of the 2010-11 Final Four to crack the poll-checking in at number four and St. Mary's (Md.), who is ranked fifth.
The rest of the top ten includes sixth-ranked Rochester, number seven Franklin & Marshall, eighth-rated Oswego State, number nine Wisconsin-Stevens Point, which will visit Carver Center to take on the Vikings on December 10, and 10th-ranked Cabrini.
Sporting News Preseason Poll
# Team (2010-11 Record)
1. Virginia Wesleyan (25-5)
2. Marietta (27-4)
3. AUGUSTANA (27-4)
4. Williams (29-3)
5. St. Mary's (Md.) (25-6)
6. Rochester (22-6)
7. Franklin & Marshall (23-6)
8. Oswego State (24-5)
9. Wisconsin-Stevens Point (26-4)
10. Cabrini (24-6)