September 28, 2011
2011 Season - Vikings fall 2-0 at Loras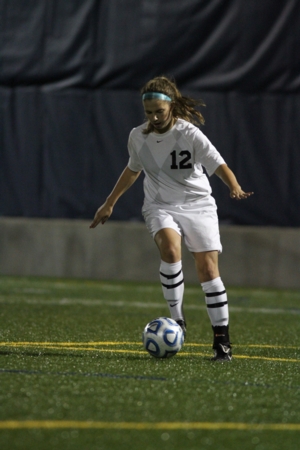 Junior Morgan Olsen got off two of the Vikings' eight shots in Wednesday's 2-0 loss at Loras.
DUBUQUE, Iowa-Loras' Tonya Lohmeyer scored on a 25-yard blast in the second minute Wednesday night and the Duhawks went on to a 2-0 win over Augustana at the Rock Bowl. The Vikings are now 5-3-1 as they head into College Conference of Illinois & Wisconsin action this weekend.
The match pitted a pair of regionally ranked teams, as Augustana entered the game ranked ninth in the Central Region by the National Soccer Coaches Association of America while Loras, now 6-2-0, was fifth in the North Region.
Danielle Vujovic assisted on Lohmeyer's early goal and she recorded another helper on Jayne Eslinger's goal in the 60th minute. Ali Schmitt was also credited with an assist on the play.
Loras outshot the Vikings by a 17-8 margin, including 12-4 in the opening half. The Vikings held a 3-2 edge in corners.
Augustana opens CCIW play on Saturday, October 1, traveling to Kenosha, Wisconsin to face the Lady Reds of Carthage. That match is scheduled for 6:00 p.m. and will be the opener in a women's/men's doubleheader.