September 28, 2011
2011 Season - Vikings defeat Coe 3-1 for sixth straight win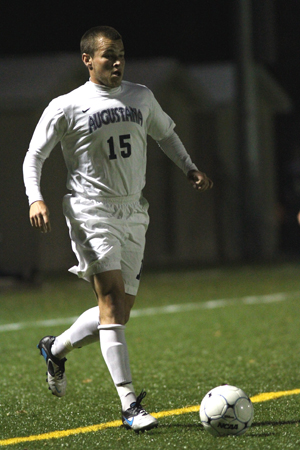 Sean Fidlow had two goals and an assist Wednesday night to lead Augustana to a 3-1 win over Coe at Thorson-Lucken Field.
ROCK ISLAND, Ill.-Sean Fidlow (Carmel HS, Gurnee, Ill.) scored two goals and assisted on another Wednesday night to lead Augustana to a 3-1 over Coe at Thorson-Lucken Field. With the win, the Vikings improve to 8-2 on the year, while the visiting Kohawks fall to 4-4-2.
Fidlow helped get the Vikings on the board in the 15th minute when he found John McSpadden (Geneva HS, Geneva, Ill.) with a crossing pass that he headed in. It was McSpadden's second goal of the season. Despite outshooting Coe 9-1 in the opening period, Augustana led just 1-0 at the half.
The Vikings took advantage of a Coe miscue to take a 2-0 lead in the first minute of the second half. The Kohawks were called for a handball in the box and coach Brenton Joseph called on Fidlow, the team's leading scorer, who slipped the penalty kick just inside the right post for a 2-0 Augustana lead.
The Kohawks had still gotten off just one shot through 56 minutes before Joe Frerichs took advantage of an Augustana defensive misplay a found an open net, converting to cut the Viking lead to 2-1. The goal was the first allowed by the Vikings in six games, covering a span of 605 minutes, and was also the first they've allowed at Thorson-Lucken Field.
In the 66th minute, Fidlow took a feed from freshman Nathan Kyes (Oswego HS, Oswego, Ill.) and scored his second goal of the night and team-best seventh of the season to push the lead back to two goals at 3-1. His assist on McSpadden's goal was his third of the season and put him alone in the team lead in that category as well.
Coe was able to even up the shot attempts in the second half, with Augustana holding just an 8-6 edge in the period and a 17-7 advantage for the game. The hosts also led in corners 3-1.
Freshman Brett Johnson (Zion Benton HS, Beach Park, Ill.) started and went 72 minutes in goal before being relieved by sophomore Steve Zahrobsky (Downers Grove South HS, Woodridge, Ill.), who went the final 18 minutes. Each recorded one save.
The Vikings, ranked sixth in the latest NCSAA Midwest Regional rankings, open College Conference of Illinois & Wisconsin play on Saturday, October 1 at Carthage. That match is scheduled for 8:00 p.m. and will be the second half of a women's/men's doubleheader.