Emerging Women Leaders honors two students
September  28, 2011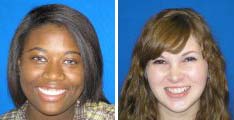 Ariel Edgeworth, left, and Amy Sanders
Ariel Edgeworth and Amy Sanders, both seniors at Augustana College, were honored by the Women's Connection through the Emerging Women Leaders program on Wednesday, September 28, at Jumer's Casino and Hotel in Rock Island.
Both women were chosen because they exhibit exceptional leadership initiative and high academic achievement. "They have made a difference at the school and in the community," said Dr. Evelyn S. Campbell, dean of student services at Augustana.
Edgeworth, a native of Moline, is majoring in psychology and communication studies. She has volunteered as a tutor at Rock Island Academy through the Lights on for Learning program. She serves as vice president for the Augustana Black Student Union. A recent intern with the Child Abuse Council in Rock Island, Edgeworth provided emotional and prenatal support for teen mothers, and she currently works in Augustana's Office of Multicultural Services.
Sanders, from Bartonville, Ill., is majoring in commuication sciences and disorders and theatre arts. Sanders' community involvement includes Alpha Psi Omega National Theatre Honor Society, where she coordinated a fund-raising performance for Family Resources, Inc. She also helped build a cardboard set for a local grade school and direct part of the Quad City Playwrights' Festival. In addition, Sanders has volunteered for Special Olympics, helped with Project Nest for expectant mothers, and choreographed and taught dance for the Augustana Swing Club.
"Ariel and Amy are leaders. Both of these young women have truly taken advantage of their Augustana educations, and they have given back to the Quad-City community," Campbell added.
The Women's Connection, a non-profit organization made up of approximately 800 female members, launched its Emerging Women Leaders recognition program in 2011. The Women's Connection uses its Women in Leadership Speaker Series as forum for recognizing regional female collegiate leaders. The speaker at the September 28 event was Marisa Rivera-Albert, president of MPowerment Works and former head of the National Hispana Leadership Institute.
Sam Schlouch
Senior Communication Director
(309) 794-7833
samschlouch@augustana.edu