September 28, 2011
2011 Season - Augustana men jump to sixth in NSCAA rankings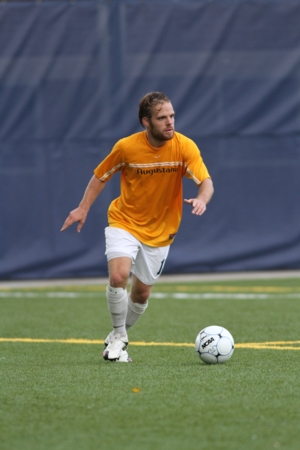 Senior Cory DeGrave has been one of the leaders of an Augustana defense that's posted five straight shutouts, helping the team to a 7-2 record and a number six ranking in the Central Region by the NSCAA.
ROCK ISLAND, Ill.-A pair wins last week, 6-0 over Knox and 1-0 over Simpson, has propelled the Augustana men's soccer team to a 7-2 season record and a tie for sixth in the latest National Soccer Coaches Association of America Central Region rankings. Coach Brenton Joseph's Vikings, who have won five in a row without allowing a goal, moved up from the ninth spot in last week's rankings.
Augustana, which hosts Coe on Wednesday, September 28 at 7:00 p.m. at Thorson-Lucken Field, is tied with Olivet (6-1-1) and Hope (4-2-3) in the sixth spot this week. Dominican (7-1-0) is the region's top-ranked team, followed by Washington University (7-1-0), with Augustana's CCIW rival North Park (5-0-3) occupying the third spot. Calvin (7-2-0) is ranked fourth, with the University of Chicago (5-1-1) fifth. Trine (6-0-2) trails the trio tied for sixth, holding down the ninth slot. CCIW member North Central (6-2-0) and Concordia (Wis.) (6-4-0) are tied for 10th.
| | | |
| --- | --- | --- |
| # | School | Record |
| 1 | Dominican (Ill.) | 7 - 1 - 0 |
| 2 | Washington (Mo.) | 7 - 1 - 0 |
| 3 | North Park (Ill.) | 5 - 0 - 3 |
| 4 | Calvin (Mich.) | 7 - 2 - 0 |
| 5 | Chicago | 5 - 1 - 1 |
| 6 | AUGUSTANA | 7 - 2 - 0 |
| 6 | Hope (Mich.) | 4 - 2 - 3 |
| 6 | Olivet (Mich.) | 7 - 1 - 1 |
| 9 | Trine (Ind.) | 6 - 0 - 2 |
| 10 | North Central (Ill.) | 6 - 2 - 0 |
| 10 | Concordia (Wis.) | 6 - 4 - 0 |