September 28, 2011
2011 Season - Military lessons move to the football field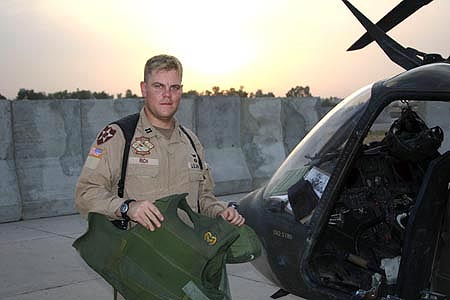 Justin Rich, the co-defensive coordinator for the Vikings, is shown with his combat helicopter outside of Mosul during his service in Iraq. Rich flew over 200 missions as a helicopter pilot and he now imparts the life-lessons he learned to the Vikings on the 2011 football team.
Perspective.
Justin Rich certainly has it. Rich, who was hired this summer as the co-defensive coordinator for the Augustana football program, can bring a unique and refreshing outlook to practice every day. While the Viking players will stress over labs, tests, papers, practice assignments and game preparation, the newest member of head coach Rob Cushman's staff looks at life a little differently.
He served for 10 years, from 1997-07, in the United States Army as part of the 10th Mountain Division out of Watertown, New York. He was a platoon leader in the air cavalry troop as part of an air cavalry task force. He flew over 200 missions in Northern Iraq during a 14 month period, serving as air mission commander in 150 of those.
In the first few months of action over the deadly skies of Iraq, Rich experienced painful reality of military life during wartime when two of his fellow pilots didn't return from a mission. They crashed in Mosul and were killed, leaving Rich to struggle with the loss while still continuing to perform his duty.
"When we lost two pilots early in combat, it certainly was a jolt," said Rich, who was the "Distinguished Military Graduate" from the Colorado State ROTC program in 1999. "Our unit didn't have a choice except to stay together and continue to support one another. Our job wasn't done in Iraq and we knew we needed to rely on one another for our survival."
That is a lesson that he thinks about every day when he walks out for practice at Ericson Field where he coaches the outside linebackers as well as serving as co-defensive coordinator with Kyle Reade.
"The one thing that always came through my head during the 14 months I was in Iraq was 'I can't do this alone'," he said. "Everybody in our unit was important and we needed to be completely cohesive if we were going to achieve our objective."
He knows that he can transform what he learned and experienced in the military into a learning situation with the Augustana players.
"I honestly don't know if any of the players know what I went through in Iraq," he responded to the obvious question. "I really hope that none of the players I am coaching have to be in a combat situation like I was in order to find out that teamwork and pulling together are the keys to getting things done. Great teams don't care about self. Instead they love and respect the guy behind and beside you. That is what I hope to instill in every player I am lucky enough to coach."
Unlike most of his coaching brethren who grew up playing the game and then made the natural transition into being a coach, Rich went about things a little differently.
"I was an officer for eight of my 10 years in service and that was a decision I made early on," he said. "I knew that if I was going to have a military career that I wanted it to be in a leadership capacity."
He received his bachelor's degree in technical journalism from Colorado State University in Fort Collins, Colorado in 1999 and embarked on his 10 year stint in the army. He received the General Aubrey "Red" Newman Award for excellence in leadership and mentorship from the U.S. Army Forces Command. He left the Iraq battlefields with a Meritorious Service medal, an Air Medal, an Army Commendation Medal with Valor and three Army Achievement Medals.
When his military service ended in "medical retirement" due to a damaged back, Rich didn't know exactly where he would end up but he knew one thing.
"I went to the vocational rehab that the Veteran's Administration offers its retirees and I knew one thing," he related. "I wanted to coach football."
So with an idea of what he wanted to do but with no experience in the sport, he started knocking on doors. Fate entered in at this point as he walked into the office of Mike Welch, the head coach at Ithaca College in Ithaca, New York.
"I still remember that conversation," Rich chuckled. "I told him that know so little about football that I can't even tell you what I don't know but I know have been training and teaching young men for the last 10 years and I would like a chance."
Welch responded with the words that Rich needed to hear.
"He told me that he could teach me how to coach football," said Rich. "That was all I needed to hear and I just dove in and tried to learn as much as possible."
While at Ithaca, Rich struck up a friendship with Cushman, who was serving as a defensive backs coach and special teams coordinator at the time.
"Rob sort of became my mentor and I was able to bounce an awful lot of things off him," he remarked. "When he took the defensive coordinator's job at Augie we stayed in contact and when he asked me to join the staff in the present capacity I jumped at the chance,"
Rich acknowledges that he has been blessed in his professional odyssey as he transitioned from military office (he retired as a captain) to football coach.
"I have a very supportive wife (Kirstin) who realizes that this is something I want to do," Rich commented. "I am grateful for the chance that Mike Welch gave me at Ithaca and have been fortunate to work with a guy like Rob Cushman, who has been instrumental in my development."
Rich, who has a Master's Degree in sports management from Ithaca, acknowledges that his career is just beginning. He also knows that he is thankful to be in the situation where he can teach young people. He also knows that the situation could have been different.
"I am constantly learning and hopefully the players under me are learning as well," he remarked. "When we stand on the sideline before each game and the national anthem plays, my thoughts do drift to my buddies still in service and to everyone who is in harm's way."