August 28, 2011
2011-12 Season - Fall season continues for men's golf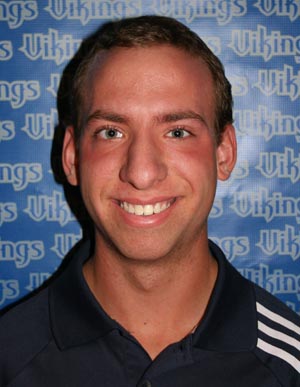 Freshman Grant Murphy led Augustana at the Bishop's Buffet Invitational, hosted by the University of Dubuque in Galena, Illinois on September 24-25.
GALENA, Illinois - Working through the fall portion of the men's golf schedule, Augustana took the links over the weekend of September 23-24 at the two-day Bishops Buffet invitational in Galena, Illinois. The event took place at Eagle Ridge resort and saw the Vikings finish 21st out of 25 teams.
Central of Iowa won the meet with a score of 587 (207+290) while Mount Mercy was second at 590 (298+292) and St. Ambrose took third with 595 (297+298). Augustana shot 669 with a first day total of 338 followed by a second day score of 331.
Freshman Grant Murphy (Dunlap HS, Peoria, Ill.) led the way for the Vikings as he shot 160 with a first day of 82 and a second day of 78. He finished in a tie for 65th place individually. Freshman Jake Groselak (Lemont HS, Lemont, Ill.) had a 168 (85+83) with Curtis Lubic (Kaneland HS, Sugar Grove, Ill.) shooting 169 (85+83). Junior Jeff Paustian (Geneva HS, Geneva, Ill.) had a 174 (88+86) and freshman Josh Kukla (Zion-Benton HS, Winthrop Harbor, Ill.) recorded a 178 (86+92).
The Vikings next take the course on October 3 in Naperville, Illinois at Cress Creek Country Club.