September 27, 2011
2011 Season - Jonathan Smith wins CCIW honor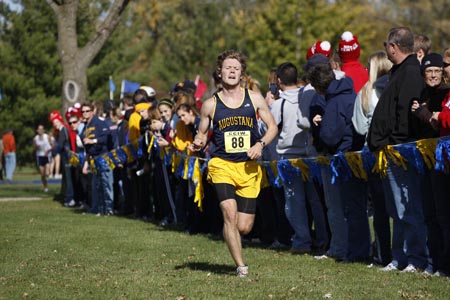 Augustana junior Jonathan Smith has been named the College Conference of Illinois and Wisconsin's "Runner of the Week". Smith finished fifth at the Brissman-Lundeen Invitational in Rock Island, Illinois on September 23.
ROCK ISLAND, Illinois - Augustana junior Jonathan Smith (Moline HS, Moline, Ill.) has been named the College Conference of Illinois and Wisconsin's (CCIW) "Runner of the Week" following a fifth place performance at the Brisman-Lundeen Invitational on Friday, September 23rd. Smith contributed to the Viking's dominating 100 point win over the 33 team field.
Smith was the second finisher for the Vikings, traversing the 8,000 meter course in 25:12 despite battling an injury the week leading up to the meet. The junior was one of three Augustana harriers that placed in the top ten at the meet. The Viking's continue to display excellent pack running, with a mere 37 second difference between their first and seventh finishers, and placing all five scorers in the top 15 of the meet. Andrew McLain of Lewis was the individual winner with a time of 24:52.8.
Smith has been in the top seven finishers for coach Paul Olsen's team in every meet this year and has been the second scorer on the team twice. He is a two time All-Conference performer in cross country and was named the CCIW "Freshman of the Year" in 2009. Smith and the Vikings will compete next at the Dan Huston Invitational in Waverly, Iowa on October 8th. The meet, hosted by Wartburg College, is scheduled to start at 11:30 a.m.
Augustana is currently ranked fourth in the latest U.S. Track & Field/ Cross Country Coaches Association Division III Midwest Regional Poll and 12th overall in the nation. Wisconsin-Stevens Point, who finished third at the Brisman-Lundeen Invitational, is currently ranked 17th in the nation.
Smith, the son of Brian and Lisa Smith of Moline, Ill. is a Biology and Pre-Physical Therapy major.