September 27, 2011
2011-12 Season - Vikings fall to Mount Mercy by four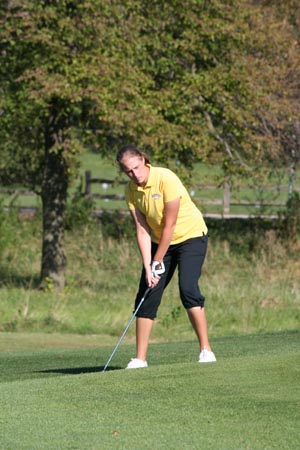 Brittany Carr led the way for the Vikings at the Mustang Four Ball Classic. Her two round score of 172 was good for second place individually.
MARION, Iowa – The Augustana women's golf team took a six stroke lead into the second day the Mustang Four Ball Classic in Marion, Iowa at Hunters Ridge Golf Course on September 24 & 25 only to fall by four strokes to the host team from Mount Mercy. The two day event pitted Mount Mercy against an 'A' and 'B' team from Augustana. The Mustangs shot a combined 695 to best the Vikings' 'A' team who combined to shoot 699.

Senior captain Brittany Carr (Lincoln Way East HS, Frankfort, Ill.) led the way for the Vikings shooting an 83 and 89 to finish with a 172 total and finish one stroke back on the leader board. Sophomore Kelly Farina (Normal West HS, Bloomington, Ill.) followed close behind as she shot an 86 and 87 to finish third with a 173. Junior Morgan Wilkinson (Westmont HS, Westmont, Ill.) shot an 85 and 93 to finish sixth with a 178. Rounding out the 'A' team from Augustana was Megan Vandersee (Sterling HS, Sterling, Ill.) and Jamie Lawrence (Moline HS, Moline, Ill.) who both shot a 185 to tie for seventh followed by Dena Capitani (Hinsdale Township HS, Hinsdale, Ill.) who shot a 193 to finish 10th.

Augustana is back in action on October 2nd at the Clarke Invitational in Dubuque, Iowa and Thunder Hills.