September 27, 2011
2011 Season - Vikings excel on course and in courses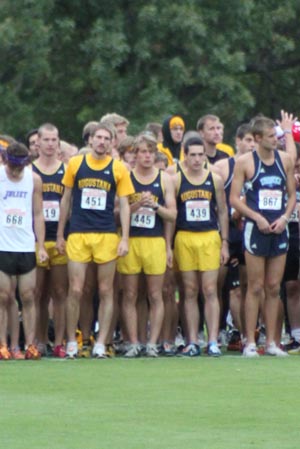 The 2011 Augustana Vikings cross country team is off to a great start, ranked 12th in NCAA Division III. The top seven has also combined academic prowess with athletic excellence as they sport an average grade point average of 3.632.
The term student-athlete might be overworked, over-utilized and under-scrutinized. It is tossed about loosely without a clear definition. Based on its performance in races and in the classroom, maybe the 2011 Augustana men's cross country team could be used as the phrase's standard-bearer.
When it comes to making the most of the student-athlete experience, the Augustana men's cross country team certainly could make its case. The Vikings are making noise on the course as they were ranked 12th last week in the NCAA Division III national ranking and the top seven runners have also done yeomen's work in the classroom.
It might be hard to tell which feat is more impressive: the scintillating start to the season that includes a win in the Brissman-Lundeen Invitational, a second at the Luther Invitational and a sixth at the Illinois Intercollegiate Championship or the fact that the top seven carries a cumulative grade point average of 3.632. Each of the individuals currently running in the top seven has at least a 3.298 GPA and four are over 3.70.
Veteran head coach Paul Olsen has had some great teams and runners during his tenure as the head cross country coach, which is now in its 46th season. He has led 24 teams to the NCAA Division III national meet with 11 of those finishing in the top 10 and he has mentored 24 All-Americans, including three individual national championships. He has had his share of achievers in the classroom as well with 28 Academic All-Americans and four NCAA Postgraduate Scholarship winners.
However, even Olsen admits to being amazed at what this group has done collectively, both athletically and academically.
"I have had all of them [but one] in class too, and these guys live out the truth that both the classroom and the cross country course are venues of intense meaning, passionate commitment, and concentrated effort," said Olsen who has been the head coach for an amazing 89 seasons at Augustana, which includes 43 as the head of the track & field program. "And, for me, what a privilege it is to be a part of all that with them!"
It is a veteran group that laces up the spikes before each race. Seniors Mike Tisza (Hersey HS, Prospect Heights, Ill.), Thomas Christian (Port Angeles HS, Port Angeles, Wash.) and Billy TenBusch (Prairie Ridge HS, Cary, Ill.) are joined by juniors Brian Pollastrini (York HS, Elmhurst, Ill.), Justin Smith (Fenton HS, Bensenville, Ill.), Nathan Smith (Fenton HS, Bensenville, Ill.) and Jonathan Smith (Moline HS, Moline, Ill.).
"Ols has taught us to 'Celebrate Life'. That means more than just pursuing excellence in running," said Tisza, one of two captains on the team along with Christian. "It also means getting the most out of our education and developing healthy personal relationships. It's our faith in this philosophy that has led to so much success."
Nathan Smith claims the top spot in the grade point derby with a 3.831 while majoring in biochemistry/pre-medicine. Pollastrini carries a 3.797 in Spanish and English while Tisza is at 3.711 in English and biology. Justin Smith checks in at 3.708 in biochemistry/pre-medicine and Jonathan Smith has a 3.607 in bioogy/pre-physical therapy with Christian at 3.474 in history and TenBusch at 3.298 in finance and international business.
Nathan Smith believes that the combination of running and academics helps him balance his schedule. "My success in both I would probably say has been to the fact that I'm lucky to have a sport that I love doing. While sometimes it is tough or inconvenient to get in a run or make it to practice, running have never been a chore for me," he remarked. "It has given me an outlet to release my stress after a day by knowing that when I go to practice or a meet all I have to do is run. I don't have to focus on anything until after I'm done and by then I'm calm and can tackle academics."
Tisza was the College Conference of Illinois & Wisconsin "Runner of the Week" after finishing second at the Luther Invitational on September 10 in Decorah, Iowa and he took fifth at the Brissman/Lundeen Invitational on September 23. Jonathan Smith took sixth at Luther and seventh at the Brissman/Lundeen meet and Pollastrini was 11th at both Luther and Brissman/Lundeen. The Smith twins were impressive at Brissman/Lundeen with Justin Smith taking 13th and Nathan Smith grabbing 20th.
TenBusch sat out the Luther Invitational but was the Vikings' first man at the Illinois Intercollegiate Championships and followed that with an overall finish of 17th at Brissman/Lundeen. Christian has been remarkably consistent in the seventh spot and at the Illinois Intercollegiate meet his time of 25:31 was just 19 seconds behind TenBusch's clocking of 25:12 as the first man. At Brissman/Lundeen he took 25th in 25:43, leaving just a 37 second gap between the first and seventh Augustana finishers.
While the focus has been on the performance of the top seven, both in the classroom and on the course, the rest of the team has certainly been taking care of business as well. There are a total of 54 runners on the 2011 squad and 15 are freshmen who don't have grade point averages yet. Of the 39 sophomores, juniors and seniors, a significant total of 26 have GPAs over 3.00 and 18 are above 3.20.