Augustana alumna makes Month at Museum finals
Public can vote for favorites online each day
September  27, 2011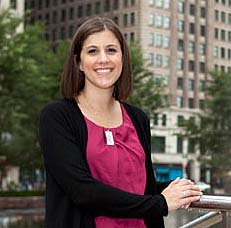 Katie Pertl Duff '04
(See also a story in the Daily Herald, "Teacher loves science so much she wants to sleep with it")
CHICAGO, Ill. — Augustana alumna Katie Pertl Duff '04 is one of six finalists for Month at the Museum, a contest at Chicago's Museum of Science and Industry which installs the winner as a blogging resident of the museum for a month and awards a $10,000 prize.
A public online vote at monthatthemuseum.org begins today to help judges select the winner.
Hundreds of people from around the country and world applied. Last year, in the first Month at the Museum contest, Chicagoan Kate McGroarty was picked to live at the largest science center in the Western Hemisphere. She experienced hundreds of exhibits, explored MSI's nooks and crannies, and even slept in a World War II submarine. She experimented, dissected, unearthed, discovered — and shared it with the world.
"We were thrilled by the reaction to this contest last year, and it was so much fun, we knew we had to do it again," said Rob Gallas, vice president and chief marketing officer for the Museum.
Duff, 29, a Palatine, Ill. native currently living in Frankfort, Ill., is an eighth-grade science teacher who loves stimulating students in the classroom with hands-on activities and her science-inspired accessories. At home, science takes a different turn in the kitchen with tasty chemistry experiments for her baking blog. Duff received a bachelor's degree in education from Augustana.
Other finalists:
• Kevin Byrne, 33, now works as a digital media analyst in Chicago, but his history reveals a biology degree, a stint as a Blue Man Group "tube talker" and a former career as a Northwestern University college admissions officer. He's a Virginia native with a lot of energy: He'll run his sixth marathon in early October, raising money for the Make-A-Wish Foundation.
• Dale Fiste, 70, a former farmer in Malden, Ill., stays busy working part-time as a handyman at a retirement community and singing with his barbershop chorus. He lives on the farm that's been in his
family since 1865, and he's constantly observing and sharing the science that's "growing" all around him.
• Motoko Maegawa, 37, is an enthusiastic middle-school educator on sabbatical for the year, looking to gain further inspiration while she pursues her masters of history degree at Oakland University in Rochester, Mich. She lives in Grosse Pointe Park, Mich. where she's also "mom" to a 13-year-old son and assistant director for his stop-motion animated LEGO movies.
• Dave Mosher, 27, a New York City freelance science writer and self-proclaimed "space geek," has covered the final frontier, science and technology for Space.com and Wired.com, among others. He's
also a Dayton, Ohio native who enjoys relaxing with music and photography.
• Mike Wilson, 26, hails from England but has been living in Chicago as part of the Fulbright Scholar Program. He's completed a master's in theology and religious studies at the University of Cambridge and a master's in philosophy at the University of Chicago, and is currently working as an assistant producer at WBEZ-FM, where he loves seeking out a good story. Later this year, he has plans to travel by tuk-tuk through India.
The public can vote for finalists once each day from today through Oct. 3, 2011, at 5 p.m. CST at monthatthemuseum.org. They will be able to view each applicant's entry video, as well excerpts
from their entry essay and thoughts from the MSI panel of judges. The final vote tally will be used to help select the winner, who will be announced live at the museum Oct. 5 at 10:30 a.m. with all six finalists in attendance.
The winner will start blogging and sharing via social media as he or she prepares for "move-in day" on Oct. 19, 2011.
Press release submitted by the Museum of Science and Industry