September 26, 2011
2011-12 Season - Former Viking great Rick Harrigan joins men's basketball staff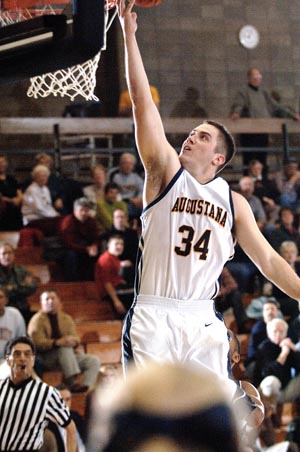 Rick Harrigan, the Most Outstanding Player in the CCIW in 2005-06 and and NCAA Division III All-American, is joining the Augustana men's basketball staff as an assistant coach. He replaces Larry Schulte, who is stepping down after being with the Vikings for six seasons.
When the 2011-12 Augustana men's basketball season begins, there will be one familiar face missing from Viking bench, but another one taking his place. Rick Harrigan, the 2006 College Conference of Illinois & Wisconsin Player of the Year, has been hired to replace Larry Schulte as an assistant coach on Grey Giovanine's staff. Schulte announced his retirement this summer.
"We are excited to have Rick Harrigan join our staff," said Giovanine. "Rick joins Tom Jessee and Dallas Duwa to give us the finest coaching staff in the country. Being a former CCIW MVP and All-American, Rick's presence will resonate not only with our players but will help immensely with our recruiting. It is great to have him back in the Carver Center where he enjoyed such a tremendous career."
In addition to winning CCIW and D3Hoops.com Midwest Region Player of the Year honors as a senior at Augustana, Harrigan was a second team All-America selection by both D3Hoops.com and the National Association of Basketball Coaches. He averaged 22.2 points per game that season and the 621 points he scored are tied for the third-highest total in school history. Although he was a starter for less than two full seasons, he's tied for 17th on Augustana's career scoring list with 1,063 points. He was a second team All-CCIW selection as a junior, despite coming off the bench for most of the year.
After his graduation, Harrigan played a year of professional basketball in Ireland, averaging 26.1 points per game for the Limerick Lions in 2006-07. He also enjoyed the experience of playing for the New York Nationals and touring as an opponent for the Harlem Globetrotters.
In 2008, Harrigan accepted a graduate assistant coaching job at Gallaudet University in Washington D.C. He spent two years at the school for the deaf and hearing impaired while pursuing his master's degree. As a result of his involvement with Gallaudet, he earned an assistant coaching position with the U.S. Under 21 team that brought home the gold medal from the 2010 Deaf International World Basketball Championships played in Lublin, Poland. He spent the 2010-11 season as an assistant coach at Augustana's CCIW rival, Elmhurst.
Harrigan will be replacing Schulte, who in six seasons as a member of the Viking staff, helped guide the team to a 129-40 (.763) overall record, four CCIW regular season championships, three conference tournament titles and four NCAA Division III tournament appearances. Prior to coming to Augustana, Schulte was the head coach at his alma mater, Alleman High School in Rock Island, Illinois, for 11 seasons. His Pioneer teams got at least as far as the IHSA Class A Sweet 16 a total of five times, including a third-place finish in 1996 and a fourth-place finish in 1995. He also had head coaching stops at Sherrard High School in Sherrard, Illinois, Black Hawk College in Moline, Illinois and Fenton High School in Bensenville, Illinois.