Symposium to honor late professor Michael Nolan
September  23, 2011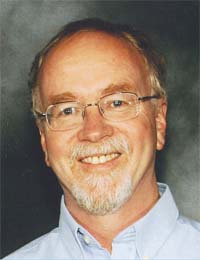 Dr. Michael P. Nolan
Friends, classmates and teachers of the late Dr. Michael P. Nolan will speak at a symposium and luncheon in his honor from 9 a.m.-4 p.m. on Saturday, Oct. 8, 2011. Events will be held in the Olin Center for Technology on campus.
Some people are naturally curious. Former associate dean and longtime Augustana College faculty member Dr. Michael Nolan was one of those people.
To honor him, "The Importance of Being Curious: A Symposium Honoring Mike Nolan" will begin at 8:30 a.m. Oct. 8 in the college's Franklin W. Olin Center for Educational Technology, 733 35th St. Registration and a detailed schedule are available online.
"He was one of the most curious, rigorous thinkers that I have met in my lifetime — a true 'liberal artist,' a man to emulate on so many levels," said Dr. Jon Clauss, Augustana professor of mathematics and director of the Augustana Center for Teaching and Learning.
"Mike was a great conversationalist," added English professor Dr. Jason Peters.
To honor Nolan's gift for engaging in dialogue, the agenda for the symposium allows for questions and conversation after each of the nine scheduled presentation. Presentations will be presented by Augustana faculty members, alumni and others who knew Nolan.
Presentation titles range from "National Energy Policy: The Power of Local Leadership" to "The Improvisational Mind and Voice" and "Curiosity and The Keg."
Nolan died Sept. 25, 2010, in Rock Island at the age of 54. He graduated from Augustana in 1977, and he went on to marry a fellow alum and professor. His wife, Dr. Ann Ericson, is an associate professor in business administration at Augustana.
"His impact on this college and on all the people that do or will call Augie home is a legacy that will last for many years to come," Dr. Clauss said.
Sam Schlouch
Senior Communication Director
(309) 794-7833
samschlouch@augustana.edu