2011-12 Season - Mark  Beinborn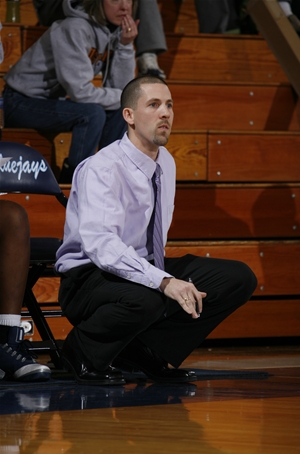 Mark Beinborn will begin his first season as the head basketball coach at Augustana in the 2012-13 season. Beinborn, who has been the Vikings assistant coach since the 2008 season, becomes the seventh coach in Augustana history. He replaces Bobbi Endress, who resigned in February after six seasons at the helm.
"I am extremely proud and happy to be the new head women's basketball coach at Augustana," said Beinborn. "This is a program where the ground work has been laid. The players are on board and I am thrilled with this opportunity to lead them. Augustana is a great school and we are looking forward to taking the next step."
Beinborn has been the junior varsity coach for the Vikings the last two years, compiling an 8-3 record in 2011-12 and a 7-5 mark in 2010-11. He was reunited with Endress in June of 2008 after serving as her assistant at Edgewood College in Madison, Wisconsin from 2004 until 2006. He served as the assistant men's coach at Edgewood from 2006 through 2008 before taking the position at Augustana. While at Edgewood, he helped direct the women's team to a conference championship and NCAA tournament berth. Before arriving at Edgewood, Beinborn also assisted with the men's team at his alma mater, University of Dubuque. He also coaches Moline/Rock Island girls' AAU team during the off season.
Augustana director of athletics Mike Zapolski had this to say about the Vikings' new head coach. "Working through the search progress, it became clear that our women's basketball program needed a strong personality at the top - someone who was decisive, genuine, passionate and willing to work hard to build relationships with a wide range of prospects."
Beinborn is a 1998 graduate of the University of Dubuque with a Bachelor of Science degree in physical education. He will receive his Master of Arts in human services from Liberty University in May of 2012. He was a two-time all-conference performer in the Iowa Intercollegiate Athletic conference while playing at Dubuque, where he was a two-time team captain. While at Dubuque he twice won the "Student Leadership Award". Following his collegiate days, Beinborn competed in a semi-pro league in Wisconsin.
Beinborn lives in Davenport with his wife Jill, and their kids; sons Marcus and Cole and daughter Macy.