September 25, 2011
2011 Season - Vikings and Storm battle to 1-1 tie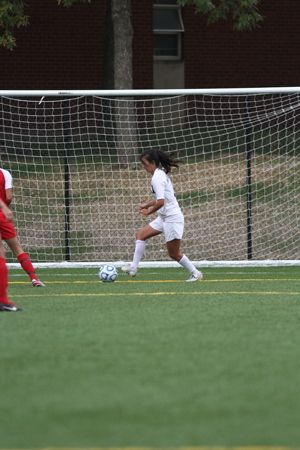 Senior Ashley Higuchi scored her second goal of the season Sunday to help the Vikings tie Simpson 1-1 at Thorsen-Lucken Field.
ROCK ISLAND, Ill.-Simpson and Augustana each scored in the first 27 minutes of play, but neither could muster a goal over the final 83 minutes Sunday as the teams fought to a 1-1 tie at Thorson-Lucken Field. Augustana is now 5-2-1 on the year while Simpson is 6-2-2.
The Storm got on the board first, taking a 1-0 lead in the 20th minute. Ashlee Krider got her head on a long feed from Corie Peterson. Her header hit the cross bar and bounded into the goal before Viking goalkeeper Kayla Radloff (West Chicago HS, West Chicago, Ill.) could collect it.
Augustana answered seven minutes later, when junior Taylor Moesle (Sandburg HS, Orland Park, Ill.) found Ashley Higuchi (Smoky Hill HS, Aurora, Colo.) in front of the Simpson net. The senior finished the play with her second goal of the season to level the score at 1-1.
That's the way regulation ended. Through 90 minutes of play Augustana held a 15-11 advantage in shots and an 8-2 edge in corners.
It was the visitors that controlled play in the first overtime session, outshooting Augustana 7-1. Radloff came up big in the period with three saves. In the second extra session, the tables turned, with the Vikings holding a 6-0 advantage in shot attempts. Only one was on goal however, with Storm keeper Megan Peterson making the save.
Coach Scott Mejia's Vikings are back in action Wednesday, September 28 when the travel to Dubuque, Iowa to face Loras in a 7:30 p.m. contest.