September 24, 2011
2011 Season - Vikings split pair of matches at MSOE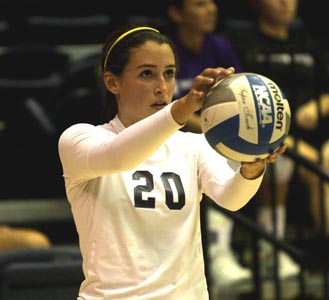 Sarah Williams picked up a total of 14 kills with 10 digs and a total of 10 blocks as the Vikings split a pair of matches against Wisconsin-Lutheran and Milwaukee School of Engineering on Saturday, September 24.
MILWAUKEE, Wis.—Augustana got a four-set win over the hosts to start its day Saturday, but later dropped a five-set match to Wisconsin Lutheran, finishing the day 1-1 at the Milwaukee School of Engineering Quadrangular volleyball tournament. Coach Jamie Walters' squad is now 7-8 on the season heading into a 7:00 p.m. Tuesday date with Illinois Wesleyan in Bloomington, Ill.
AUGUSTANA 3, MSOE 1 (12-25; 25-23; 25-15; 25-17)
Facing the host Raiders to open play Saturday, the Vikings fell behind early. They already trailed 10-5 in the first set before MSOE won six straight points behind the serving of Kaylie Lenz to take 16-5 lead. The Raiders went on to post a 25-12 win. Augustana rebounded nicely, leading most of the way in a tightly-contested second set and pulling out a 25-23 win to even the match at a set each.
The Vikings trailed just twice in the final two sets—and that only briefly at 10-9 and 11-10 in the fourth—as they went on to 25-15 and 25-17 wins.
Senior Brianna Skeens (Vernon Hills HS, Libertyville, Ill.) led the way with 14 kills in the match while freshman Samantha Kammerman (Sherrard HS, Milan, Ill.) added nine. Junior setter Kelsey Mikula (Coal City HS, Coal City, Ill.) had 35 of Augustana's 38 assists. Defensively, four Vikings recorded at least 10 digs, led by Katrina Colclasure's (Tri-Valley HS, Bloomington, Ill.) 17. Sophomore Kristen Yerkes (Marist HS, Palos Heights, Ill.) contributed 13, while Mikula and freshman Julee Morrison (Chaparral HS, Scottsdale, Ariz.) had 10 each.
WISCONSIN LUTHERAN 3, AUGUSTANA 2 (25-27; 25-19; 25-23; 22-25; 15-11)
In its second match of the day, Augustana got off to a great start, rallying from a 16-11 deficit in the opening set to finally pull out a 27-25 win over Wisconsin Lutheran. A pair of kills by Skeens off Mikula sets provided the final two points. The Warriors led the entire way in a 25-19 second set win. Although the Vikings never led in the third set, the teams were tied six times before Wisconsin Lutheran claimed a 25-23 win.
The Vikings jumped out to 5-0 and 10-3 leads in the fourth set and held on for a 25-22 win to even the match at 2-2. However, unlike Tuesday night's win over North Park, Augustana couldn't recover from a slow start in the fifth set, falling behind 8-2 and eventually dropping a 15-11 decision.
Skeens again led the way with 16 kills. Freshman Emily Leazer (St. Viator HS. Mt. Prospect, Ill.) had 15 kills and 18 digs and Kammerman added 12 and 13, respectively. Mikula had 14 digs to go along with 51 more assists. Colclasure again led with 24 digs, while Morrison had 18.