2011-12 Season - Eric Juergens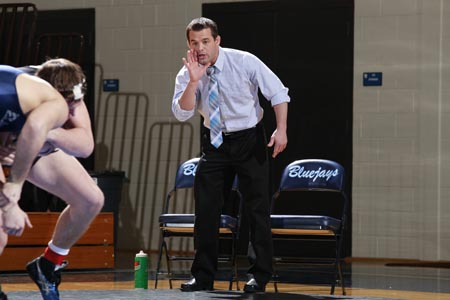 After serving as Augustana's interim head coach for the 2007-08 season, Eric Juergens, a two time NCAA Division I national champion, was hired as the school's full time wrestling coach on April 4, 2008. He heads into his sixth season at the helm of the Vikings in 2012-13. Juergens has the Vikings coming off their best campaign in eight years, leading them to a 11-4 dual meet record and a second place finish in the College Conference of Illinois and Wisconsin (CCIW). The 2011-12 season also saw Juergens' team produce Augustana's first All-American (Jordan Richardson) since the 2002-03 season, as well as three individual conference champions (Alberto Quiros, Richardson, and Matt Burns).
Augustana went 2-9 in dual meets and finished fourth in the College Conference of Illinois & Wisconsin during Juergens' interim season of 2007-08. In his second year (2008-09), the Vikings went 4-11 in dual meets and moved up to third in the CCIW. 2009-2010 brought an improved record of 5-10 in dual meets and another third place conference finish, building up to the success the program experienced during the 2010-11 season. The 2010-11 season saw Juergens' team achieve a new high, producing Augustana's first two conference champions (freshmen Jacob Scholten and Jordan Graham) since the 2005-06 season, as well as two Scholar All-Americans in Hunter Feraco and Tim Day.
In September of 2008, the head wrestling coaching position at Augustana was fully endowed thanks to a generous gift from Terry and Sandy Shockley. Juergens becomes the first "Terry and Sandy Shockley Head Wrestling Coach" in school history. Augustana is the first school in the CCIW and one of a select few in NCAA Division III to have an endowed coaching position in its athletic department.
"I want to thank the administration for giving me the chance as a head coach," said Juergens when the interim tag was removed from his title in the spring of 2008. "My intentions and goals will be very simple. I have been coached by some of the greatest names in the sport of wrestling, guys like Dan Gable, Jim Zalesky, Tom and Terry Brands and Lincoln McIlravy just to name a few. I want to take the very methods and techniques that I have learned over the course of my own career and implement them at Augustana."
Juergens had a prolific career as a competitor. Wrestling at the University of Iowa, he won individual national titles both as a junior (1999-00) and as a senior (2000-01). He was third in the NCAA tournament in his freshman (1997-98) and sophomore (1998-99) seasons. As a senior he served as team captain and was the Hawkeye's Most Valuable Performer. He was the Big Ten Wrestler of the Year and selected as the University of Iowa's "Male Athlete of the Year".
During his junior campaign he had an undefeated 33-0 record en route to his first national title. Along the way he won the Big Ten title and was the champion at the Midlands Tournament. He was given the Art Kraft "Champion of Champions" award at the Midlands.
He finished third in the Big Ten both his freshman and sophomore seasons prior to placing third in the national meet each year. He was named the NCAA "Freshman of the Year" at the completion of the 1997-98 season.
His high school career at Maquoketa High School in Maquoketa, Iowa was one of unparalleled success. He was 144-0 during his four year, compiling 100 pins and winning four straight state titles. He was the Northern Plains Regional champion and was first team Amateur Wrestling News All-American. He was a second team Asics Tiger All-American as well. He placed second at Cadet Nationals as a sophomore and was an honor roll student.
Juergens graduated from the University of Iowa in 2001 with a B.A. degree in English. He served as a volunteer assistant coach at Augustana in 2006-07 and before that he spent two seasons as a volunteer assistant at Loras. He is the owner of Young Guns Wrestling Club and served as the camp director for the University of Iowa Wrestling Camps from 1998 until 2002.
He leads an Augustana program that has won a total of 36 CCIW titles, more than any other school in the conference.
| | | | | | | | | | |
| --- | --- | --- | --- | --- | --- | --- | --- | --- | --- |
| YEAR | W | L | T | .PCT | CCIW FINISH | REGIONAL FINISH | NCAA FINISH | CCIW CHAMPS | NCAA ALL-AMERICANS |
| 2007-08 | 2 | 9 | 0 | .182 | Fourth | 12 th | --- | --- | --- |
| 2008-09 | 4 | 11 | 0 | .267 | Third | 12 th | | | |
| 2009-10 | 5 | 10 | 0 | .333 | Third | 10 th | | | |
| 2010-11 | 9 | 6 | 0 | .600 | Third | 7th | | 2 | |
| 2011-12 | 11 | 4 | 0 | .733 | Second | 6th | 36th | 3 | 1 |
| CAREER | 31 | 40 | 0 | .436 | | | | | |