September 21, 2011
2011 Season - Ninth ranked Vikings win fourth straight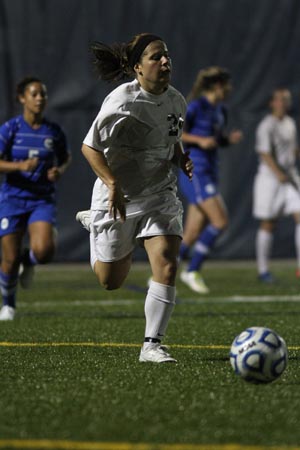 Senior Erin Coulson scored the first goal of the match, and her first of the season, as Augustana defeated Milwaukee School of Engineering 2-0 on Wednesday evening in Milwaukee, Wisconsin. The Vikings, now 5-2 on the season, are ranked ninth in the NCAA Division III's Central Region.
MILWAUKEE, Wis. - With the news of a jump to ninth in the NCAA Division III Central Region polls coming in earlier in the day, Augustana responded with in fine fashion on Wednesday, September 21. The Vikings defeated Milwaukee School of Engineering by a score of 2-0 in Milwaukee, Wisconsin for their fourth straight victory of the season.
The match was tied at halftime although Augustana held a 12-6 advantage in shots taken. In the 12th minute of the second half (56:09), senior Erin Coulson (Neuqua Valley HS, Naperville, Ill. – now resides in Hermosa Beach, Calif.) scored an unassisted goal to give the Vikings a 1-0 lead. It was Coulson's first goal of the season and the 26th of her career.
There was no more scoring until senior Jessica Dodds (Linn-Mar HS, Marion, Iowa) scored her first goal of the season at 84:52 to give Augustana a two goal advantage. Dodds was assisted by junior Morgan Olsen (Downers Grove North HS, Woodridge, Ill.) on the play.
Senior goalkeeper Kayla Radloff (West Chicago HS, West Chicago, Ill.) recorded five saves and picked up her third shutout of the campaign. It was the team's fourth shutout of the year.
The Vikings held a final advantage of 24-10 in shots over the Raiders and a 6-2 edge in corner kicks.
Augustana moved to 5-2-0 on the season and will be in action next on Sunday, September 25 at home against Simpson in another non-conference match. Starting time at Thorson-Lucken Field is set for 1:00 p.m.