Symphonic Band disaster relief concert Sept. 24
September  21, 2011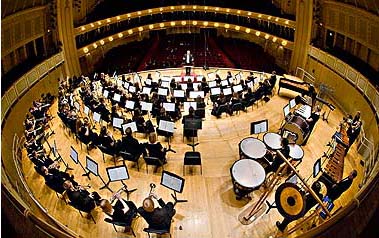 Venue: Centennial Hall (map)
Contact: (309) 794-7833
Ticket Price: Free-will offering for Red Cross aid in Japan
Clyde Andrew Walter '08
Events and Outreach Manager
Augustana College
The Augustana Symphonic band will perform a Sept. 24 concert in preparation of Director of Bands James Lambrecht's departure for a guest residency in Japan, where he will guest conduct the Musashino Academia Musicae Wind Ensemble in Tokyo, Japan for three months.
The concert will serve as a Disaster Relief Benefit Concert in response to the earthquake, tsunami, and nuclear meltdown which took place this past March in Japan.
Artistic outreach in Japan continues to serve as a reaction to the disasters of earlier this year. During his time in Japan, Lambrecht will be involved in music which is programmed as a response to the devastating events. During this concert at Augustana, Lambrecht will briefly discuss what he will be working on during his time overseas and what he is expected to see of Tokyo and the Japanese oceanside.
Japan continues to have great need for restoring their natural resources, and so a goal of this concert is to raise money so that Augustana can contribute to the Red Cross relief during Lambrect's time in Japan. Augustana will also furnish a Cherry tree, popular to Japanese culture, in honor and remembrance of those who lost their lives to the disaster. Lambrecht comments that "it is easy to forget about such disasters...yet much of Japan is still uninhabitable...much remains to be done."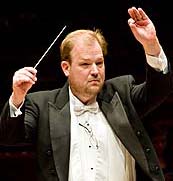 Lambrecht has programmed a few musical works related to Japan that will expose the Augustana Community to Japanese musical culture, including an arrangement by his own mentor, Ray Cramer, of the popular Japanese tune Sakura Sakura - the arrangement was a gift to Musashino. Lambrecht is interested in developing a meaningful relationship between Augustana College and Musashino Academia Musicae. Student Gaetano Iaccarino '12 reflects on how "Musashino tries to play as much American literature as possible - it is exciting to see how the Augustana Symphonic Band is reciprocating by playing some music of Japan," adding that he sees this concert as "a celebration of music, but also a meaningful gesture to the people of Japan that Augustana College is committed to helping those in need, no matter where they live."
Musashino Academia Musicae dates back to 1929 when Naoaki Fukui, with a deep desire to promote western classical music in Japan, established the school. World harmony through music has always been a principal focus of the school, which currently has over 2000 music majors. Guest teachers, conductors and performers, from all parts of the world, have always played a significant role in creating the international flavor and awareness of the school. A main focus of study for the Musashino Wind Ensemble has been the United States, the home of wind ensemble music, and American conductors and composers.
Of returning to Musashino, Lambrecht is excited to " 'hit the ground running' so to speak...since I know all of the musical, performance, and culture-related opportunities and expectations that I had to discover last time." Lambrecht's relationship with Musashino is creating an impact far greater than his own experience in Japan, though. Iaccarino '12 has learned from Lambrecht's previous residency that "Music is rarely about just playing the notes... people from different cultures approach situations in different ways." He has seen the impact of Lambrecht's first residency at Musashino and believes members of the Symphonic Band "will be able to take [Lambrecht's] cross-cultural experience in Japan and see how it applies to their own disciplines. This is an opportunity to enrich not only the music department but the entire Augustana community."
Sam Schlouch
Senior Communication Director
(309) 794-7833
samschlouch@augustana.edu