September 21, 2011
2011 Season - Women's soccer moves to ninth in Central Region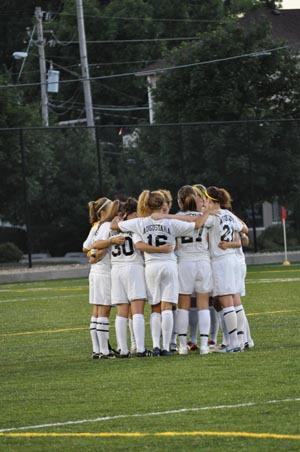 The Vikings are currently 4-2 and have moved into ninth in te NCAA Division III Central Region.
Riding the crest of a three-match winning streak, Augustana has moved into ninth place in the NCAA Division III Central Region's women's soccer rankings. Head coach Scott Mejia's team was 1-2 after the first three matches of the 2011 season but victories over Calvin, Fontbonne and Dubuque have the Vikings at 4-2.
The NCAA Central Region rankings are compiled by the National Soccer Coaches Association and were released today. Wheaton is the number one ranked team in the region with a 6-0-0 record while Illinois Wesleyan (5-1-0), Washington (5-1-0), Chicago (4-2-0) and Hope (4-1-0) round out the top five.
The Vikings started the season with a 1-0 loss at home to Wartburg but bounced back to defeat Cornell 3-0 on September 4. On Friday, September 9 they had a 2-0 lead on fifth ranked Hope but it slipped away in a 3-2 defeat. Augustana rebounded with a 4-1 win over Calvin on September 10 and then followed that with victories last week over Fontbonne (4-0 on September 14) and Dubuque (2-0 on September 17).
Augustana will play at Milwaukee School of Engineering on Wednesday, September 21 and host Simpson on Sunday, September 25.
NCAA DIVISION III CENTRAL REGIONAL POLL
Released on Wednesday, September 2, 2011
Compiled by the National Soccer Coaches Association of America
1 – Wheaton (6-0-0)
2 – Illinois Wesleyan (5-1-0)
3 – Washington (5-1-0)
4 – Chicago (4-2-0)
5 – Hope (4-1-0)
6 – Alma (5-1-0)
7 – Adrian (4-2-0)
8 – Aurora (5-3-0)
9 – AUGUSTANA (4-2-0)
10 – Principia (4-2-0)