September 21, 2011
2011 Season - Men's soccer ranked ninth in Central Region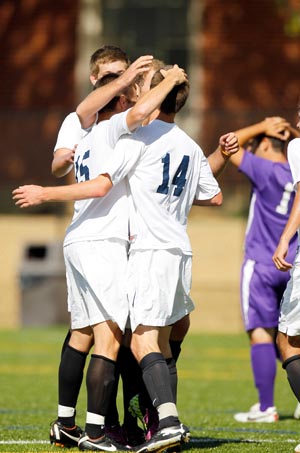 After winning three straight matches by identical 1-0 scores last week, Augustana moved into ninth place in the NCAA Division III Central Regional rankings.
Fueled by a trio of 1-0 shutouts last week, the Augustana men's soccer team moved into the top 10 in the NCAA Division III Central Regional rankings, it was announced today. The Vikings, 5-2-0 on the season, are currently ninth in the National Soccer Coaches Association of America (NSCAA) poll. It is the first time in head coach Brenton Joseph's tenure that Augustana has appeared in the rankings.
The Vikings had a tremendous week, especially on defense, as they performed for over 270 minutes without allowing a goal. They went on the road and defeated Beloit on Wednesday, September 14 by the score of 1-0 behind a goal by Matt Shipon (South Elgin HS, Elgin, Ill.). On Friday, September 16, Augustana beat Fontbonne 1-0 with Adam Wilson (Plainfield North HS, Plainfield, Ill.) collecting the only goal in the match. The week culminated on Sunday, September 18 with a 1-0 win over a Dubuque team that came into the contest 5-0 and ranked 16th in the nation. In a rough and tumble affair that went into overtime, Shipon scored on a penalty kick to give the Vikings a 1-0 victory.
Augustana will play at Knox on Thursday, September 22 and then host Simpson on Sunday, September 25.
2011 NCAA DIVISION III CENTRAL REGIONAL RANKING
Week #3 – September 20, 2011
1 – Washington (6-0-0)
2 – Dominican (4-1-0)
3 – North Park (4-0-3)
4 – Calvin (5-2-0)
5 – Hope (4-1-2)
6 – Chicago (4-1-1)
7 – Trine (5-0-1)
8 – Olivet (5-1-1)
9 – AUGUSTANA (5-2-0)
10 (tie) – Wheaton (3-3-1)
10 (tie) – Elmhurst (4-1-2)