September 21, 2011
2011 Season - Vikings stay 12th in NCAA cross country poll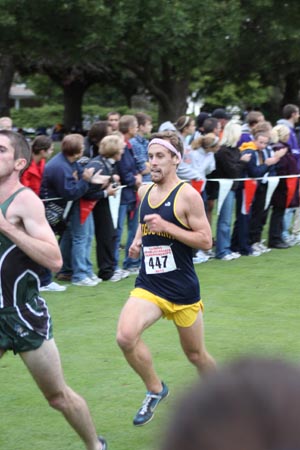 Junior Nathan Smith and the Vikings are currently ranked 12th in the latest NCAA Division III national poll in men's cross country.
After finishing sixth in the 32-team Illinois Intercollegiate Championships on Friday, September 16 in Bloomington, Illinois, the Augustana men's cross country team stayed in 12 th in the latest NCAA Division III national poll. Veteran head coach Paul Olsen's team garnered 174 points, 12 more than a week ago, in the United States Track & Field/Cross Country Coaches Association weekly ranking.
Augustana started the season ranked 20 th in the pre-season and then moved to 12 th a week ago after finishing second in the Luther Invitational on September 10, losing by one point to eighth ranked Wisconsin-LaCrosse. Last Friday at the Illinois Intercollegiate Championships the only NCAA Division III teams finishing ahead of the Vikings were number one ranked North Central and 16 th rated Chicago.
Olsen's bunch used tremendous pack running in Illinois Intercollegiate meet as only 25 second separated top runner Billy TenBusch (Prairie Ridge HS, Cary, Ill.) from seventh man Jonathan Smith (Moline HS, Moline, Ill.). TenBusch was 27 th in 25:12 and Smith took 57 th in 25:37.
The Midwest Regional continues to be represented heavily in the national poll, with nine teams cracking the 35 team rankings. College Conference of Illinois and Wisconsin foe North Central continues to lead the way as the number one ranked team in the country with 280 points. Washington is third with 256, Wisconsin-LaCrosse is ninth (220), Augustana 12 th (174), Wisconsin-Oshkosh 15 th (168), Chicago 16 th (165), Wisconsin-Stevens Point 17 th (142), Wheaton 24 th (88), and Wisconsin-Platteville 34 th (17).
The Vikings will host the Brissman/Lundeen Invitational on Friday, September 23 at Saukie Golf Course in Rock Island, Illinois. The meet is scheduled to begin at 6:00 p.m.
USTFCCA WEEKLY POLL #3 (as of September 21, 2011)
| | | | | | |
| --- | --- | --- | --- | --- | --- |
| RANK | SCHOOL | POINTS | REGION | CONFERENCE | LAST WEEK |
| 1. | North Central (8) | 280 | Midwest | CCIW | 1 |
| 2. | Haverford | 270 | Mideast | Centennial | 2 |
| 3. | Washington | 256 | Midwest | UAA | 4 |
| 4. | Calvin | 254 | Great Lakes | MIAA | 5 |
| 5. | SUNY-Geneseo | 248 | Atlantic | SUNYAC | 8 |
| 6. | St. Lawrence | 242 | Atlantic | Liberty | 3 |
| 7. | Dickinson | 235 | Mideast | Centennial | 6 |
| 8. | Wisconsin-LaCrosse | 220 | Midwest | WIAC | 9 |
| 9. | MIT | 219 | Northeast | NEWMAC | 11 |
| 10. | Williams | 201 | Northeast | NESCAC | 10 |
| 11. | NYU | 195 | Atlantic | UAA | 10 |
| 12. | AUGUSTANA | 174 | Midwest | CCIW | 12 |
| 13. | Elizabethtown | 172 | Mideast | MAC | 13 |
| 14. | Middlebury | 171 | Northeast | MESCAC | 15 |
| 15. | Wisconsin-Oshkosh | 168 | Midwest | WIAC | 13 |