Five Questions for: Dr. Randy Hengst
October  18, 2011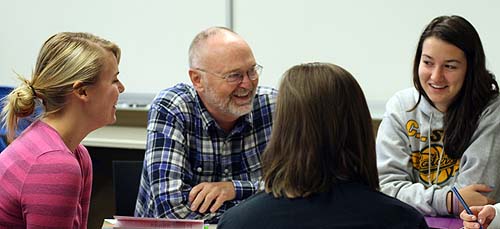 Dr. Hengst rarely lectures from a podium, preferring instead to work with his students individually and in small groups (Augustana Photo Bureau/Scott Cason)
Five Questions is a series of profiles of people at Augustana College. Randy Hengst, professor of education, gives the answers today. If you know someone you'd like to see profiled, send his or her name and a note to sharenews@augustana.edu.
1. What do you find most rewarding about teaching at Augustana?
Time to hang out and chat with students when they pop in. I try and make time to be here for students by doing a lot more at home, at night. It's fun for me because it means students can draw me in to help with projects they are doing in other classes. I first meet most of our students when they are sophomores. This means I get to stay with them through their methods courses and on into student teaching. I get to watch them grow over those three years. I don't think I'd like this job if I only taught them once and never saw them again. There wouldn't be that opportunity to help them re-think something or maybe revisit the things they learned in the class they took from me in their sophomore year.
2. How would you describe your role as Augustana's Faculty Senate chair?
There is no handbook on how to do this job, but I see my role as being attuned to the issues faculty are wondering about and making sure the dean and the president hear about these things. I think as a Senate we should be engaged in activities that help us wonder more about why we do things the way we do them as a college. Obviously we should be involved in anything related to faculty, but under the broader umbrella of curriculum, we should be involved in anything related to student learning.
3. Tell me about the Number Sense Project.
Number Sense is an effort to help kindergarten and first-grade students at nearby Longfellow Elementary School gain the basic number sense they will need to be successful as they move through the elementary school math program. Dr. Mike Egan and I have teamed up to create classroom software that helps Longfellow teachers and our clinical students working at Longfellow. Last year, we provided iPods loaded with Number Sense software apps. This year we have added several iPads to the mix. We've also had two Augie Choice-related extensions to the program, involving students investigating how the software might be used in conjunction with more traditional math instruction methods and activities. The next step is turning our students into what I'd call App idea generators. They provide us with suggested modifications, but I'm looking forward to getting new ideas for teaching applications from our students.
4. What do you find most compelling about an Augustana education as a pathway for future educators?
A liberal arts college like Augustana is the perfect place to earn an elementary education teaching certificate. Teaching at this level requires a broad brush of knowledge and experiences. I don't know why elementary education would be offered anywhere but a small, liberal arts college. When I find out that a perspective student has a passion for music, and wants to become a math teacher, I can remind them that you don't have to major in music here to be able to enjoy, participate and feel fulfilled through music. We also have education majors who act in our major seasonal plays on campus. This might be harder to do at a bigger institution.
5. What role does the December Beginning Teacher Workshop play in maintaining relationships with recent graduates.
This workshop is pretty cool. The emphasis is on working with relatively new teachers, but all of our grads are invited to come back and share their experiences. There is so much to discover as a teacher when you leave Augustana, and our recent grads are excited to come back to campus and share what they've learned. Because of the consistency of our program, much of our current students' experience parallels that of our recent graduates. This allows our graduates to directly relate how some of the things they learned in courses like educational psychology apply in the real world.