September 20, 2011
2011 Season - Winkelman wins CCIW honor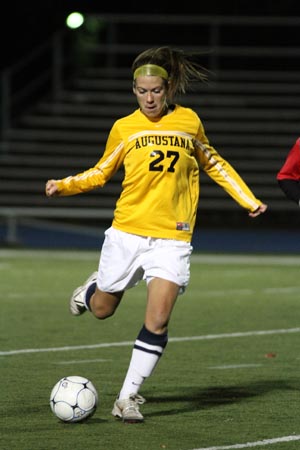 Senior Caitlin Winkelman has been named the CCIW "Offensive Player of the Week" for women's soccer. Winkelman scored five goals last week including all four in a 4-0 win over Fontbonne.
Augustana senior midfielder Caitlin Winkelman (St. Charles North, St. Charles, Ill.) has been selected as the "Offensive Player of the Week" in the College Conference of Illinois & Wisconsin. Augustana went 2-0-0 this past week and Winkelman was the catalyst for the Vikings offense.
Winkelman scored five goals last week as the Vikings moved their record to 4-2-0 overall. Augustana beat Fontbonne 4-0 on September 14 with Winkelman scoring all four goals for the Vikings. Winkelman opened the scoring in the third minute off an assist from Taylor Moesle. She then scored in the 12th minute off an assist from Ashley Higuchi. In the 20th minute, Highuchi assisted on Winkelman's third goal of the half. For good measure, the duo hooked up again in the 64th minute for Winkelman's fourth goal of the game. She scored an unassisted goal in the second minute of the Vikings 2-0 win over Dubuque on September 17. With her five goals last week, Winkelman's season total stands at seven to go along with one assist. These numbers are good enough to lead Augustana in scoring with 15 points.
A communication sciences and disorders major, Winkelman is the daughter of Rick and Dawn Winkelman of St. Charles, Illinois. Winkelman recorded four goals and three assists a season ago, ending the season with 11 points. She now has 28 goals and nine assists in her career.