September 20, 2011
2011 Season - Buric named CCIW "Player of the Week"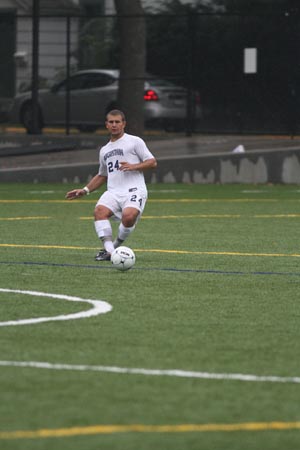 Michael Buric was named the CCIW "Defensive Player of the Week" for his performance this past week. Buric and the Vikings won three games last week, all of which were 1-0 shutouts.
Augustana sophomore defender Michael Buric (Notre Dame Prep, Scottsdale, Ariz.) helped lead the Vikings to three victories last week. For his effort he was rewarded as the College Conference of Illinois & Wisconsin "Defensive Player of the Week" in men's soccer. Buric helped Augustana post three 1-0 shutouts last week.
Buric and the Vikings started the week with a 1-0 victory at Beloit on September 14. Augustana held Beloit to just six shots in the game and only three of those shots were on goal. That victory moved the Vikings record to 3-2 on the young season.
Augustana picked up where they left off defensively against Beloit in their game against Fontbonne on September 16. They held the Griffins to just eight shots for the game. While seven of the eight shots were on goal, the Vikings were able to keep any from reaching the back of the net as they went on to win 1-0.
The final game of the week for Augustana was against the 18th ranked Spartans of Dubuque on September 18. Coming into the game, Dubuque had scored 19 goals in their first five games. The Vikings proceeded to hold the Spartans to 10 shots, only three of which were on goal, on their way to another 1-0 shutout.
Buric has started every game at defender for Augustana this year. As a team, the Vikings have only allowed three goals and 51 shots on their way to a 5-2 record.
Michael, a business management major, is the son of John and Barbara Buric of Scottsdale, Arizona.