September 18, 2011
2011-12 Season - Vikings win Benedictine Invitational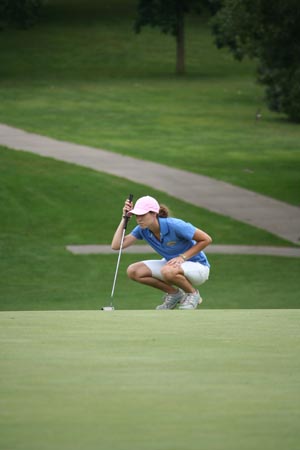 Sophomore Jamie Lawrence shot 166 and placed third at the Benedictine Invitational to lead the Vikings to the team title at the Benedictine Invitational at St. Andrews in West Chicago, Illinois.
WEST CHICAGO, Ill. - With five players finishing in the top 10 individually, Augustana rolled to a 22 stroke victory at the Benedictine Invitational in the two day event at St. Andrews Golf Course in West Chicago, Illinois on September 17-18. The Vikings of veteran head coach Ron Standley shot 666 with a first round of 330 followed by a second day total of 336.
Augustana's 666 defeated second place Ashford's runner-up score of 688 (351+337) while Edgewood was third at 693 (360-333). The Augustana "B" team took fourth at 757 (395+362) with North Park fifth with a score of 834 (437+397). Benedictine placed sixth with a total of 901 (473+428). Aurora and Marian played the first round and scored 381 and 403 respectively before each team withdrew.
Sophomore Jamie Lawrence (Moline HS, Moline, Ill.) led the Vikings with a remarkably consistent score of 166 for the 36-hole event. She shot 83 on the first day and then battled rain and miserable conditions on the second day for an identical 83. She was third in the individual standings, finishing behind only the winning score of 154 (79+75) put up by Muriel McIntyre of Concordia-Wisconsin and the runner-up total of 165 (83+82) from Brittany Boon of Ashford.
Sophomore Dena Capitani (Hinsdale Central HS, Hinsdale, Ill.) placed fifth with a score of 168 (82+86) while junior Megan Vandersee (Sterling HS, Sterling, Ill.) took seventh with a total of 169 (83+86). Sophomore Kelly Farina (Normal West HS, Bloomington, Ill.) shot 171 (82+89) and finished ninth while junior Morgan Wilkinson (Westmont HS, Westmont, Ill.) was 10th with a score of 172 (89+83). Senior Brittany Carr (Lincoln-Way East HS, Frankfort, Ill.) was 13th with a 173 (89+84).
Sophomore Katelyn Lazar (Williamsville HS, Sherman, Ill.) played on the Augustana "B" team and she recovered from an opening round of 101 to record an 82 on the second day for a final score of 183 and a tie for 16th place. Her Sunday score of 82 tied for the best 18-hole score in the tournament.
The Vikings will play in the Mount Mercy 4-Ball Tournament at Hunter's Ridge Golf Course in Marion, Iowa on September 24-25.