September 18, 2011
2011 Season - Vikings knock off nationally-ranked Dubuque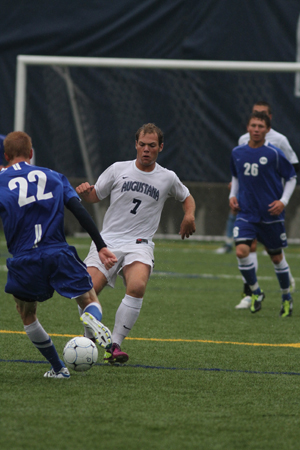 Matt Shipon's penalty kick in overtime gave Augustana a 1-0 win over 16th-ranked Dubuque Sunday at Thorson-Lucken Field.
ROCK ISLAND, Ill.-Matt Shipon's (South Elgin HS, Elgin, Ill.) penalty kick in the fourth minute of overtime Sunday gave Augustana a 1-0 win over Dubuque at Thorson-Lucken Field. Shipon was tripped in the box and buried the penalty kick in the right side of the net to give the Vikings the win. Augustana improves to 5-2 on the year, while the Spartans suffer their first loss after five straight wins.
Dubuque came into the contest ranked 16th in the nation and having outscored its five opponents 19-2. The Vikings, playing without leading scorer Sean Fidlow (Carmel HS, Gurnee, Ill.), controlled play early, outshooting the visitors 6-1 in the match's opening 20 minutes. By halftime Dubuque had narrowed that margin to 8-7 with two shots on goal for each team.
In the second half, it looked like the Vikings had taken the lead when Grant Halter (Glenbard West HS, Glen Ellyn, Ill.) scored on a pass from Vincenzo Dal Pozzo (Neuqua Valley HS, Naperville, Ill.) in the 50th minute. However, the goal was nullified by an offside call and regulation play ended 0-0. Augustana outshot Dubuque 5-3 in the second 45 minutes.
Shipon's goal was his second of the season.
Freshman Brett Johnson (Zion-Benton HS, Beach Park, Ill.) got his first career start in goal and responded with the shutout, making three saves along the way.
Augustana got off the only two shots in the overtime period and finished the game with a 15-10 margin in total shots and a 6-3 advantage in shots on goal. The Spartans held a 3-2 edge in corners.
Coach Brenton Joseph's Vikings are next in action on Thursday, September 22, when they travel to Galesburg, Illinois to take on the Knox Prairie Fire. Scheduled start time for that match is 4:00 p.m.