September 17, 2011
2011 Season - Vikings turn back Dubuque 2-0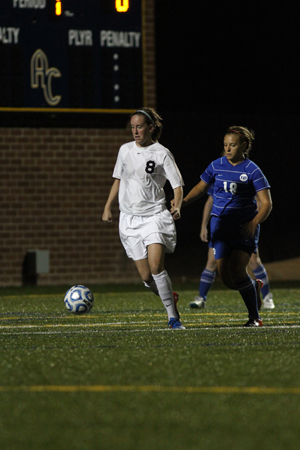 Junior Taylor Moesle scored her third goal of the season in Augustana's 2-0 win over Dubuque Saturday night at Thorson-Lucken Field.
ROCK ISLAND, Ill.- After scoring four goals Wednesday night against Fontbonne, it took Caitlin Winkelman (St. Charles North HS, St. Charles, Ill.) just 1:23 to find the net Saturday night against Dubuque. Winkelman's goal, along with one from Taylor Moesle (Sandburg HS, Orland Park, Ill.) in the second half, gave Augustana a 2-0 win over the Spartans at Torson-Lucken Field.
Winkleman's seventh goal of the season was unassisted and put the Vikings up 1-0 in the second minute. Augustana controlled play throughout the opening period, outshooting the visitors by a margin of 11-3. Sophomore Bridget Shrigley (Wheaton Warrenville South HS, Wheaton, Ill.) narrowly missed goals on two occasions with shots that hit the crossbar, but the hosts couldn't add to their lead in the first half.
It was more of the same in the second half, with Augustana getting off 13 shots to just two for the Spartans. Still, it held the slightest of margins until Moesle found the net with a long blast in the 73rd minute. The unassisted goal was Moesle's third of the season.
The Viking back line of seniors Megan Mummert (Crawfordsville HS, Crawfordsville, Ind.), Kelly Johnson (Homewood-Flossmoor HS, Flossmoor, Ill.) and Mary Pat Holtrop (St. Charles North HS, St. Charles, Ill.) and junior Morgan Olsen (Downers Grove North HS, Woodridge, Ill.), limited the Spartans to few scoring opportunities in the match. Just two of Dubuque's five shots were on goal and senior goalkeeper Kayla Radloff (West Chicago HS, West Chicago, Ill.), back in net for the Vikings, saved both to get the shutout.
In addition to outshooting Dubuque 24-5 for the game, including 9-2 in shots on goal, Augustana held a 6-1 edge in corners.
Next up for coach Scott Mejia's Vikings will be a road contest at Milwaukee School of Engineering on Wednesday, September 21. That match is scheduled for 5:00 p.m.