September 17, 2011
2011 Season - Late field goal sinks Vikings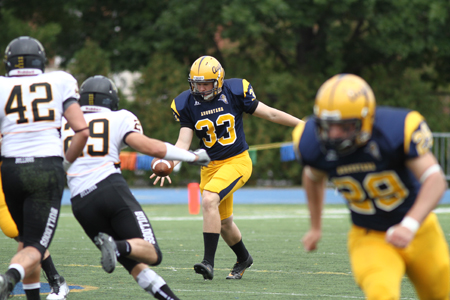 Junior Arnie Fitzwater punted 10 times for a 43.4 yard average Saturday, but the Vikings dropped a tough 17-14 decision to Adrian at Ericson Field.
ROCK ISLAND, Ill.-Logan Mitseff's 45-yard field goal at the final gun Saturday gave Adrian a 17-14 win over Augustana at Ericson Field. The loss drops the Vikings to 0-3 on the season while the Bulldogs improve to 3-0.
Mitseff's kick was set up by a 36-yard Brandon Miller to Justin Hemm catch-and-run. With just 11 seconds on the clock when the play started, Hemm made a heady play by going down on his own at the Viking 28-yard line with four seconds left. Adrian quickly called timeout and with a slight breeze at his back, Mitseff nailed the game-winner.
After forcing an Adrian punt on the game's opening possession, the Vikings drove 73 yards in nine plays with junior running back Brett McWilliams (Hononegah HS, Roscoe, Ill.) taking it the final six yards to paydirt and a 7-0 Augustana lead. McWilliams and quarterback David Lee (Springfield HS, Springfield, Ill.) busted off runs of 15 and 28 yards on the march. The game looked like it might be a shootout when Adrian responded with a nine-play, 73 drive of its own. On a fourth-and-four from the Viking 30, Miller lofted a pass which Hemm corralled in the end zone to even the score at 7-7.
From there, the defenses took over though, as neither team scored for over 40 minutes, although not without some opportunities. Augustana drove to the Adrian 31 early in the second quarter, but was stopped on downs by the Bulldogs. The visitors missed a golden opportunity two possessions later when they drove from their own 23 to the Augustana 27, where Miller connected with Shaun Hladki, who looked like he was going in for the go-ahead score, only to fumble the ball through the end zone for a touchback. Augustana answered by driving to the Bulldog 16-yard line at the end of the half, but Brady Rogers' (Cherokee Trail HS, Aurora, Colo.) 34-yard field goal attempt at the gun went wide right.
The defensive domination peaked in the third quarter, which saw nine consecutive possessions fail to yield a first down. Each team went three-and-out four times in the period and the Vikings turned it over once on an interception on an attempted flea-flicker.
With just under 10 minutes left in the game, an Arnie Fitzwater (Waterford Union HS, Waterford, Wis.) punt pinned Adrian at its own seven-yard line. On the first play, Pete Schimeck (Benet Academy, Naperville, Ill.) sacked Miller and separated him from the ball at the one, where Joe Weber (Marmion Academy, South Elgin, Ill.) recovered. McWilliams took it into the end zone on the next play but was assessed an unsportsmanlike conduct penalty after the score.
After Rogers' PAT made it 14-7 Augustana, Fitzwater kicked off from his own 15 and after briefly bobbling the ball, Adrian's Danny Cobb picked it up and went 73 yards down the right sideline to tie the game with 8:53 remaining.
The Bulldogs missed another opportunity when Mitseff pushed a 19-yard field goal attempt wide right with 2:35 left. Each team had two more possessions and on its final one, Augustana drove to Adrian's 25-yard line with under 20 seconds left, but coughed up the ball on a screen pass, setting up Adrian's winning drive.
The Bulldogs outgained Augustana 289 to 252 in the contest, but committed 11 penalties for 84 yards and lost three fumbles. McWilliams ran for 105 yards and a pair of scores to lead the Viking offense. Lee completed 15 of 28 passes for 100 yards and Nick Krantz (Moline HS, Moline, Ill.) led with four catches for 25 yards. Erik Westerberg had 10 tackles, including eight solo stops and Schimeck had a pair of sacks and a forced fumble to spearhead a solid effort by the Augustana defense.
After a week off, the Vikings head into CCIW play on October 1 when they host Millikin at Ericson Field. The game will be part of Family Weekend festivities and is scheduled to kick off at 6:00 p.m.