September 16, 2011
2011 Season - Vikings sixth at Illinois Intercollegiate Championships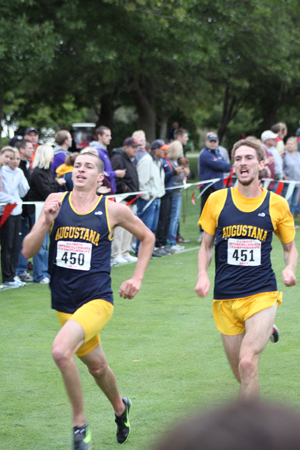 Billy TenBusch edged out teammate Mike Tisza to finish 27th at the Illinois Intercollegiate Championships in Normal, Illinois Friday. The pair helped the Vikings finish 6th among a field of 32 teams.
NORMAL, Ill. - Only 25 seconds separated Augustana's top seven runners on Friday, September 15 at the Illinois Intercollegiate Championships at the Illinois State University Golf Course in Normal, Illinois. The result was an impressive sixth place finish in the 32-team meet, which included six NCAA Division I schools.
The Vikings of veteran head coach Paul Olsen scored 154 points and finished just one point behind the University of Chicago's fifth place total of 153. Earlier this week the NCAA Division III national rankings were released and Augustana checked in at number 12 while Chicago was 22nd in the first poll of the season.
North Central, the top ranked team in US Track & Field/Cross Country Coaches Association poll, won the meet with 48 points. Three NCAA Division I teams filled the next three spots as Loyola (72), Illinois-Chicago (112) and Eastern Illinois (149) followed in that order. Olivet Nazarene and Illinois State tied for seventh with 224 points while St. Francis was ninth with 244 and Bradley took 10th with 272. Olivet Nazarene and St. Francis are scholarship NAIA institutions while Illinois State and Bradley are both NCAA Division I teams. There were only three NCAA Division III schools (North Central, Augustana and Chicago) that finished in the top 10.
Senior Billy TenBusch (Prairie Ridge HS, Cary, Ill.) ran in his first race of the season and he was the top finisher for the Vikings with a time of 25:12 in 27th place. He was followed into the finish chute by fellow senior Mike Tisza (Hersey HS, Prospect Heights, Ill.). Tisza was 28th with the same time as TenBusch.
Junior Nathan Smith (Fenton HS, Bensenville, Ill.) took 34th in 25:18 with junior Brian Pollastrini (York HS, Elmhurst, Ill.) grabbing 35th in 25:20. Junior Justin Smith (Fenton HS, Bensenville, Ill.) was 44th in 25:27 to round out the Augustana scoring. Senior Thomas Christian (Port Angeles HS, Port Angeles, Wash.) placed 47th in 25:31 and junior Jonathan Smith (Moline HS, Moline, Ill.) ran 25:37 and was 57th.
The 15 second difference between the Vikings' top five finishers (TenBusch at 25:12 and Justin Smith at 25:27) and the 25 second gap in the top seven was a tremendous sign this early in the season. Augustana, which was ranked fourth in the NCAA Division III Midwest Regional as well as being 12th in the nation, hosts the Brissman-Lundeen Invitational on Friday, September 23. The meet will be held at Saukie Golf Course in Rock Island and will start at 6:00 p.m.