September 16, 2011
2011 Season - Blast from Wilson gives Vikings a 1-0 win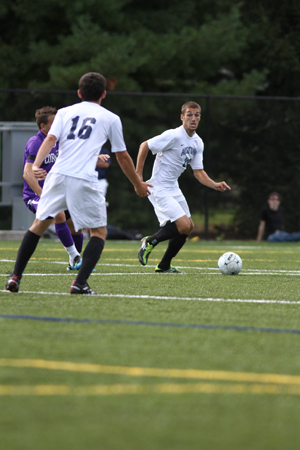 Adam Wilson's second goal of the season gave Augustana a 1-0 win over Fontbonne at Thorson-Lucken Field Friday night.
ROCK ISLAND, Ill.- A 30-yard blast from Adam Wilson (Plainfield North HS, Plainfield, Ill.) in the 77th minute was the game's only goal as Augustana defeated Fontbonne 1-0 at Thorson-Lucken Field Friday night. With the win, the Vikings improve to 4-2 on the season, while Fontbonne falls to 4-3.
The Griffins had Augustana on its heels early, outshooting the Vikings 7-5 in the opening period, with six of their shots on goal. However, Viking goalkeeper Tyler Cowherd (Bettendorf HS, Bettendorf, Iowa) was up to the task, stopping all six and maintaining a scoreless tie at the half.
The hosts outshot the Griffins 9-1 in the second half, but Wilson's second goal of the season was the only one on goal in the half. Meanwhile, Cowherd recorded his seventh save of the night on Fontbonne's only shot of the second half. The shutout dropped his goals against average to 0.54 on the year.
The Vikings ended up with a 14-8 edge in total shots, but the visitors held an advantage of 7-4 each in shots on goal and corners.
Coach Brenton Joseph's club will try to win its third in a row when it hosts Dubuque at 3:00 p.m. Sunday, September 18 at Thorson-Lucken Field.