September 16, 2011
2011 Season - Cornell defeats Augustana in three sets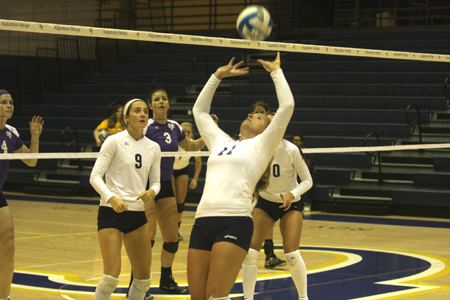 Augustana junior setter Kelsey Mikula had 15 assists and 12 digs, but the Vikings fell to Cornell in three sets.
ROCK ISLAND, Ill.-Augustana fell to Cornell at Carver Center Friday night in three sets. The Rams claimed the opening set 25-17 and won the last two by identical 25-14 scores. The Vikings fall to 5-7 on the year, while Cornell improves to 9-1, having dropped just six sets in ten matches this season.
Augustana was again led in kills by freshman outside hitter Emily Leazer (St. Viator HS, Mt. Prospect, Ill.) who had seven on the evening, matching the number of digs she recorded. Junior setter Kelsey Mikula (Coal City HS, Coal City, Ill.), who came into the match averaging over nine assists a set, had 15 in the two sets in which she played. She also had 12 digs, trailing only the 15 recorded by sophomore defensive specialist Katrina Colclasure (Tri-Valley HS, Bloomington, Ill.). Freshman outside hitter Samantha Kammerman (Sherrard HS, Milan, Ill.) added three kills and four digs.
Cornell was led by Kathleen O'Connor's 10 kills and 10 digs, 22 digs from Kylea Weber and 20 assists from Sabrina Hargis. It was the Rams' seventh three-set win of the season.
The Vikings are back at Carver Center on Tuesday, September 20, when they'll host North Park in a College Conference of Illinois & Wisconsin match at 6:00 p.m.