September 15, 2011
2011 Season - Vikings ranked 12th in latest poll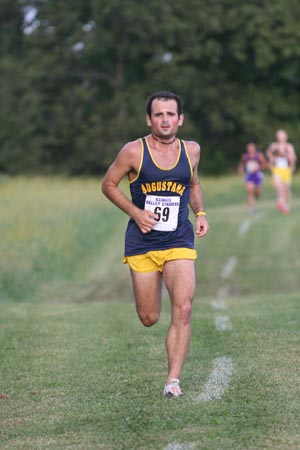 Senior Brandon Gittelman helped lead the Vikings to a second place finish at Luther this past Saturday. For their efforts, the Vikings have moved up to 12th in the NCAA Division III men's cross country poll.
The Augustana men's cross country team turned in a superb performance last Saturday, September 10th, at the Luther All-American Invitational and was rewarded with an eight-place leap to 12th in the NCAA Division III national coaches' poll. Veteran coach Paul Olsen's Vikings garnered 182 points, 76 more than last week's preseason poll.
Augustana harriers claimed three of the top 11 spots at the All-American Invite, led by senior Mike Tisza's (Hershey HS, Prospect Heights, Ill.) second place effort of 20:35 over the hilly four mile course. Juniors Jonathon Smith (Moline HS, Moline, Ill.) and Brian Pollastrini (York HS, Elmhurst, Ill.) finished second and third on the team, with 6 th and 11 th place finishes, respectively. Senior Thomas Christian (Port Angeles HS, Port Angeles, Wash.) and junior Nathan Smith (Fenton HS, Bensenville, Ill.) rounded out the scoring for the Vikings. The Vikings lost by a single point to ninth ranked Wisconsin-Lacrosse.
The Midwest Regional continues to be represented heavily in the national poll, with nine teams cracking the 35 team rankings. College Conference of Illinois and Wisconsin foe North Central continues to lead the way as the number one ranked team in the country with 280 points. Washington is fourth with 256, and the afore mentioned Wisconsin-Lacrosse team sits three spots ahead of the Vikings at ninth with 216 points. Other Midwest teams in the poll include Wisconsin-Oshkosh at 13 th , Wisconsin-Stevens Point at 17th , Chicago at 21st , Wheaton, which dropped from 15th to 26th , and Wisconsin-Platteville at 32nd .
The Vikings next compete on Friday, September 16 th at the Illinois Intercollegiate Championships at Illinois State University in Normal, Ill. The meet is scheduled to start at 5:00 p.m.
| | | | | | |
| --- | --- | --- | --- | --- | --- |
| RANK | SCHOOL | POINTS | REGION | CONFERENCE | LAST WEEK |
| 1. | North Central (8) | 280 | Midwest | CCIW | 1 |
| 2. | Haverford | 270 | Mideast | Centennial | 4 |
| 3. | St. Lawrence | 264 | Atlantic | Liberty | 3 |
| 4. | Washington | 256 | Midwest | UAA | 5 |
| 5. | Calvin | 243 | Great Lakes | MIAA | 2 |
| 6. | Dickinson | 238 | Mideast | Centennial | 6 |
| 7. | Williams | 232 | Northeast | NESCAC | 7 |
| 8. | SUNY-Geneseo | 229 | Atlantic | SUNYAC | 8 |
| 9. | Wisconsin-LaCrosse | 216 | Midwest | WIAC | 9 |
| 10. | NYU | 195 | Atlantic | UAA | 11 |
| 11. | MIT | 184 | Northeast | NEWMAC | 17 |
| 12. | AUGUSTANA | 182 | Midwest | CCIW | 20 |
| 13. | Wisconsin-Oshkosh | 181 | Midwest | WIAC | 13 |
| 14. | Elizabethtown | 178 | Mideast | MAC | 12 |
| 15. | Middlebury | 173 | Northeast | MESCAC | 10 |