September 14, 2011
2011 Season - Winkelman's four goals propel Vikings to victory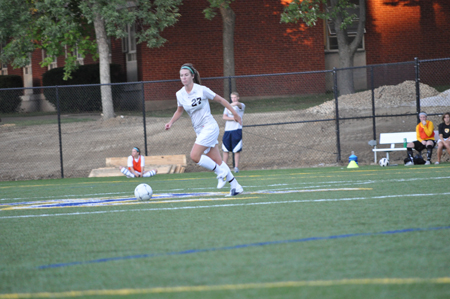 Viking senior Caitlin Winkelman scored all four goals in Augustana's 4-0 win over Fontbonne at Thorson-Lucken Field Wednesday night.
ROCK ISLAND, Ill.-Getting all four goals from Caitlin Winkelman (St. Charles North HS, St. Charles, Ill.), Augustana improved its season record to 3-2 Wednesday night with a 4-0 win over Fontbonne at Thorson-Lucken Field. Viking senior Ashley Higuchi (Smoky Hill HS, Aurora, Colo.) assisted on three of Winkelman's goals. Fontbonne falls to 1-4 on the year.
It didn't take long for Winkelman to get Augustana on the board. The senior scored in the third minute on an assist from junior Taylor Moesle (Sandburg HS, Orland Park, Ill.) to give the Vikings a 1-0 lead. Higuchi and Winkelman teamed up for a score in the 12th minute to make it 2-0 and when they did the same eight minutes later, Winkelman had recorded a hat trick before the contest was 20 minutes old. Her final goal of the night came off a Higuchi corner in the 64th minute.
Augustana continually pressured Griffin goalkeeper Kaniz Abbas throughout the match. She faced 34 Vikings shots, recording 17 saves. Meanwhile, Bridget McDermott (Prospect HS, Mt. Prospect, Ill.) and Kayla Radloff (West Chicago HS, West Chicago, Ill.) had a quiet night in goal for the hosts. McDermott was credited with team's only three saves of the night in the first half. Radloff relieved her for the second half and faced just one shot, which was not on goal. The home team also held a 10-0 advantage in corners in the match.
Next up for Augustana is a home Dubuque on Saturday, September 17 at 7:00 p.m. at Thorson-Lucken Field.