September 14, 2011
2011 Season - Shipon's goal gives Vikings 1-0 win at Beloit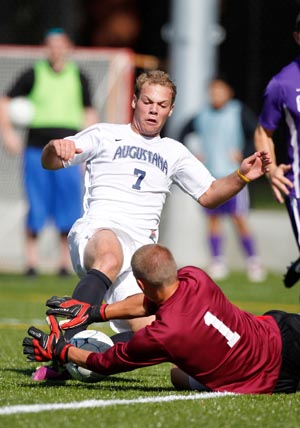 Matt Shipon scored the only goal of the match as Augustana defeated Beloit 1-0 on Wednesday, September 14.
BELOIT, Wis. - Sophomore Matt Shipon (South Elgin HS, Elgin, Ill.) scored the only goal of the contest late in the first half to help lift Augustana to a 1-0 non-conference victory at Beloit on Wednesday, September 14. The win snapped a two game losing skid for the Vikings, who dropped a pair of one-goal decisions over the weekend at the Concordia-Minnesota Tournament.
Shipon's goal, his first of the year, came at the 37:46 mark and senior Sean Fidlow (Carmel Catholic HS, Gurnee, Ill.) was credited with the assist. It was Fidlow's first assist of the year.
Augustana dominated the game statistically, holding a 21-6 advantage in shots over the Buccaneers, including a 13-3 margin in the second half. The Vikings led in corner kicks 10-5 and forced Beloit goalkeeper B.J. Kiser to make nine saves in the game.
Fidlow was credited with five shots and junior Nick Wolfe (Neuqua Valley HS, Naperville, Ill.) had four with Shipon taking three.
Sophomore Tyler Cowherd (Bettendorf HS, Bettendorf, Iowa) worked all 90 minutes in goal for the Vikings and he came up with three saves as he recorded his second complete game shutout of the season.
Augustana is now 3-2-0 overall while Beloit dropped to 1-3-1. The Vikings are home on Friday, September 16 against Fontbonne at 7:00 p.m.