September 2011
The rankings are in
According to the U.S. News and World Report Best Colleges rankings for 2011, Augustana College continues to be a top-tier national liberal arts college. This year Augustana advanced from 88 to 86 in the rankings, tying with Allegheny (Pa.), Hendrix (Ark.) and Luther (Iowa).
While rankings can be useful for superficial comparisons, they tend to neglect qualities such as student growth during the college years and success after graduation. These areas are great sources of pride for Augustana, and should be important to students in their search for the right college. Some points to consider:
• According to the most recent Collegiate Learning Assessment performance task on analytical reasoning and critical thinking, Augustana students averaged a 28-point increase in intellectual growth between the freshman and senior year, compared with a national test group average increase of 16 points.
• According to the 2009 National Survey of Student Engagement institutional report, Augustana students report satisfaction in their student-faculty interaction, enriching educational experiences and active learning that surpasses the national average by more than 10 percent.
• 97 percent of Augustana College graduates are engaged in graduate study or full-time employment within nine months of graduating (Augustana career development office, 2010).
In "The Order of Things—What college rankings really tell us," a February 2011 New Yorker article by Malcolm Gladwell, the author describes the annual college rankings as puzzling and unreliable. According to Gladwell, "There's no direct way to measure the quality of an institution—how well a college manages to inform, inspire and challenge its students. So the U.S. News algorithm relies instead on proxies for quality—and the proxies for educational quality turn out to be flimsy at best."
1 (professor) + 2 (grants) = $650,000 (to fund science scholarships)
This summer, Professor of Biology Lori Scott received two National Science Foundation (NSF) grants to support a new Augustana College Science Scholars Program. The grants fit well together and support the college's strategic initiatives.
One grant—the Louis Stokes Alliance for Minority Participation (LSAMP) grant—exclusively supports African-American students majoring in the sciences and will provide $50,000 over five years. The second grant—a Scholarships in Science, Technology, Engineering and Mathematics (S-STEM) grant—focuses on biology and biochemistry majors from under-represented groups, though it isn't exclusionary. The S-STEM grant will provide Augie students with $600,000 over the next five years. Together, both grants can give 20 incoming Augustana College Science Scholars $10,000 per year for four years, or two years if they transfer to the college.
"For several years, Augustana has been discussing ways to increase diversity and enrollment of transfer students," Lori said. "NSF also has a goal of increasing under-represented minorities in the sciences and helping with transfer success."
She added, "This program is important to Augustana because it will recruit academically strong students who are interested in careers in the sciences."
This rightfully proud professor knows her efforts will reduce financial concerns for students, promote future career success through research experiences and support significant faculty-student interactions.
Applications are in the works, and Lori is developing connections with faculty at key feeder community colleges. The first group of Science Scholars will enroll in the 2012-13 academic year.
Field Notes
Field Notes illustrates different kinds of experiential learning that take us places off campus. This issue presents excerpts from the Augie Choice reflection essay written by Thomas Christian '12. A history major with minors in English and environmental studies, Thomas spent the summer as a volunteer farm apprentice for Doug Hendrickson at Salt Creek Farm outside Port Angeles, Washington. Co-captain of the cross country team here at Augustana, Thomas started most days with a 10-mile run before his farm work.
My experience at Salt Creek Farm can be broken down into two parts. The first part is the science of agriculture…. Then there is the bigger picture about our relationship with land and each other. This part I am still wrestling with.
The science I find fascinating. It begins with biology as plants use nutrients from the soil and energy from the sun. Then there is the necessary understanding of crop rotation, fertilizers, tools, irrigation and farm management. When one puts all these components together, it becomes clear that small-scale organic growing is a real art. In fact, it takes a huge amount of faith. The farmer prepares the land, lays the seed, and adds fertilizer and water… but the real work is left up to the crops.
It doesn't take long to realize that the farmer is only sort of in control. Doug has 20-plus years of experience on that eight-acre section of land. With that, he controls what he can and lets the earth do the rest.
I am particularly interested in crop rotation and seed saving. Yearly crop rotation is a way of preventing pests and encouraging healthy growth without the use of pesticides or petrol-based fertilizers. Some varieties of crops drain the soil of nutrients quicker than others while some are more resistant to certain pests. For example, one never plants Brassicas (broccoli, kale, mustards, etc.) on the same plot year after year. Of course this requires a wealth of knowledge about crops as well as meticulous records of planting seasons.
Seed saving is a dying art, but it has been an important agricultural practice for thousands of years. Farmers select what crops work best in certain areas and save the strongest seed for the next planting. At the beginning of the 20th century, there were thousands of varieties of apples and tomatoes across America, each one selected for specific reasons, whether it be its sweet flavor, resistance to pests or love of sandy soil. This speed version of natural selection is an example of the complex relationship between the farmer and the world around him.
Today, science has allowed us to go inside crops and alter genes to make super crops.… with the introduction of these Genetically Modified Organisms (GMOs), the great biodiversity on farms has disappeared. Americans are now almost fully reliant on nine varieties of crops, leaving our food supply in serious jeopardy. Despite the efforts of seed engineers, the GMO monocrops are not perfect. As we know from the flu virus, vaccines are always one step behind. The earth's natural biodiversity is the only proven defense against pests and pathogens.
As I move forward, I feel I have found a possible vocation. This fall I will look at graduate school programs in the environmental field. One possibility is Yale University's dual degree program between the Divinity School and the School of Forestry and Environmental Science. I know I will continue to be thankful for the time I spent at Salt Creek Farm with Doug, Lee, John and Laura. It is truly amazing how much I learned in such a short period of time.
New Face on Campus
Keri Rursch, Director of Public Relations
B.S., public relations, Illinois State University
In case you're curious, Keri's last name Rursch is pronounced rush, and that's a perfect lead-in to describe what's it's been like since she arrived exactly seven days before the start of classes.
All of us who work here know the seemingly endless number of tasks we must complete to prepare for our students' arrival. Imagine doing it without knowing who's who, what's what and where's that building.
But Keri has handled the transition with grace and purpose — probably a reflection of her role in the lives of her two daughters, 8-year-old Ella and 6-year-old Amelia. Like most parents, Keri's off-work hours are as busy as her time in the office. Spelling words, soccer practice and bike rides take up many of her evenings-and she wouldn't want it any other way.
The 30-minute drive from her family's farm near Reynolds, Ill., gives Keri a chance to catch up on the day's news on WVIK. The commute is nothing new; she worked at Modern Woodmen of America in Rock Island for the past 16 years.
Coming to Augustana was "a good change," Keri says. "I'm working for another great organization in the Quad Cities, and I believe in its mission."
Keri has enjoyed meeting colleagues from across campus and looks forward to meeting more in the coming months. She's truly impressed with what she has learned about Augustana, and is especially happy to hear it from her student workers. "When you hear it from students," she says, "it makes it that much more exciting to tell our story."
From the Cabinet
Steve Bahls, President
Now that Affirm, Assure and Assess has been developed by our community as an addendum to Augustana's strategic plan, it falls to each of us to ensure its implementation. Over the summer, I shared with you some questions I used in developing my own work plan for the year ahead. First among those is this question: How does what we're doing help prepare students to stand out, and how can we prove it?
Here are some additional questions I'd like each of us to keep in mind as we go about our work:
• Am I up to speed about the plan and our overall progress on it?
• Are we working to make our campus and our neighborhood better places to live and work?
• How can my work advance our efforts at building greater diversity among students and employees?
• Are we serving as good stewards of the college's finite resources?
• What can I do to make our recruiting and retention as successful as possible?
• Am I engaged in our shared mission of preparing students for rewarding lives of leadership and service?
I'm confident that if we are intentional about keeping such questions in mind in all that we do, not only will the plan's implementation be assured, but Augustana's stature as one of America's leading liberal arts colleges will be dramatically enhanced. Thank you for your partnership.
In the Works
Director of Human Resources Laura Ford authors a perennial series of information and wisdom pertaining to being an employee of Augustana College.
There's been a lot of talk on campus about time clocks and fingerprinting, and why we are implementing a new attendance tracking system. Many of you have stopped by the HR office to talk about this issue, and we welcome your questions. HR Generalist Steve Gottcent is taking the lead on this project, and his timeline should transition all employees to the new system by the end of October, allowing for student workers to use the system at the beginning of the winter term.
As you may know, we've had time clocks here at Augustana for a number of years in facilities, security and dining services. Other non-faculty employees have used old-fashioned paper timecards and/or paper forms to report vacation or sick time. Students have used a combination of time clocks, paper time cards and the Datatel time-tracking feature. When we got word last summer that our current time clock system (Jan-Tek) would no longer be supported by the vendor, a team representing frequent users across campus reviewed options and chose Time Clock Plus.
This new product allows us to bring all campus-wide time and attendance tracking into one system and, for most, can be accessed from your computer screen. If you have used time clocks in the past, you will use the upgraded time clocks, which verify who you are through a fingerprint. Employees who used paper timecards in the past will use Time Clock Plus from their computer screen, which will verify identity with a computer-based login and a PIN.
When fully implemented, the new system will reduce quite a bit of data-entry and redundant processes, providing faster and better communication and reporting capabilities. As with all change initiatives, we've definitely experienced some unanticipated glitches, but hope that most of these have been resolved. We are planning for plenty of training and user support on Time Clock Plus. Please feel free to email Steve or me with any questions as we implement the new system.
Seen and Heard
"Don't let anyone tell you that 9/11 crippled our nation. It did not, it has not and it will not."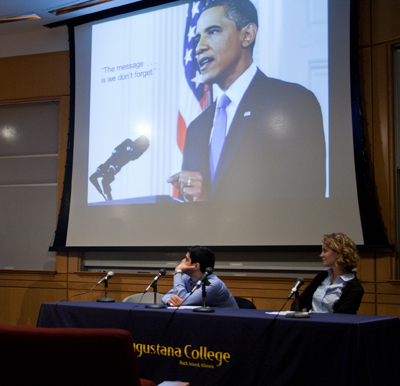 Over the weekend of September 9–11, Augustana hosted events including a symposium, 9/11 in 2011: a decade of learning and living, and an interfaith commemorative service. The photo—with assistant professors Cyrus Zargar (religion) and Jessica Schultz (psychology)—is from one panel session titled "Media, Lived Experience and Memory after 9/11." The quote is by Ms. Najeeba Syeed-Miller, who gave the keynote address at Sunday's interfaith service.
Acknowledge is published by the Office of Communication and Marketing. Contact Beth Roberts, editor. Photos in this issue were contributed by Marla Alvarado Neuerburg, Drew Barnes '14, Megan Cocker '13, Emily Cudworth '13 and Kyle Soyer '14 of the Augustana Photo Bureau. To see the calendar of upcoming Augustana events, go to augustana.edu/calendar.