September 14, 2011
2011-12 Season - Kim Sawyer named CCIW women's tennis "Player of the Week"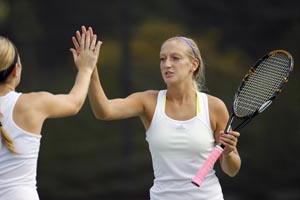 Kim Sawyer and partner Meghan Wethington battle with St. Norbert.
Augustana sophomore Kim Sawyer was named College Conference of Illinois Wisconsin women's tennis "Player of the Week" this past week. Sawyer led the Vikings to a 4-1 record from Sept. 5-10 as she compiled a first singles record of 5-0 and a first doubles record of 3-1. She has a 7-0 record on the season at first singles for the Blue and Gold and is looking to build off her 29-7 singles record from last year.

Sawyer cruised to wins early in the week defeating conference opponent Millikin 6-2, 6-1 at first singles and opponent Loras 6-0, 6-0 in singles. She followed that with conference singles wins at Carthage 6-0, 5-7, (10-6) and at Elmhurst 6-3, 4-1 ret. In addition to her singles win against St. Norbert, to finish the week, Sawyer teamed with first doubles partner Meghan Wethington to defeat St. Norbert 9-8(5) in a pivotal doubles match.

Sawyer and Vikings are back in action this Saturday when they host matches with Cornell at 9:30 am and Lake Forest at 4:00 pm at the Carver Courts.

Release written by assistant sports information director Jon Miedema