September 13, 2011
2011 Season - Vikings fall at Wheaton in CCIW opener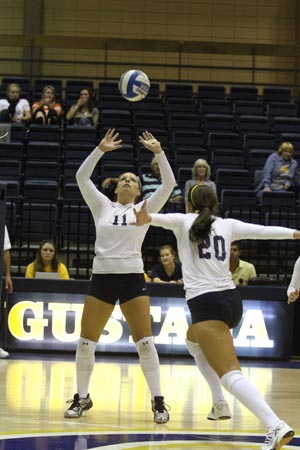 Kelsey Mikula had 25 assists and Sarah Williams (20) recorded four assisted blocks and two kills as Augustana fell to Wheaton in the CCIW opener for both teams.
WHEATON, Ill. - Augustana fell to Wheaton by a score of 3-0 (25-17; 25-17; 25-18) in the College Conference of Illinois & Wisconsin volleyball opener for both teams on Tuesday, September 13 at King Arena in Wheaton, Illinois.
Freshman Emily Leazer (St. Viator HS, Mt. Prospect, Ill.) led the Vikings with 13 kills as she was the only Augustana player in double figures in that category. She had three hitting errors and 40 total attacks and wound up with a .250 hitting percentage.
Junior Kelsey Mikula (Coal City HS, Coal City, Ill.) picked up 25 setting assists and sophomore Katrina Colclasure (Tri-Valley HS, Bloomington, Ill.) had 12 digs. Junior Sarah Williams (Rockford Lutheran HS, Rockford, Ill.) had four assisted blocks.