River Readings writers chosen to inspire students
September  14, 2011

River Readings authors, from left, Jill Essbaum, Gerald Stern and Jaimy Gordon.
Reading, though pleasurable, can be a lonely business. Augustana's River Readings series is designed to give students a chance to gather and meet successful writers, many of whom will be read for generations to come.
"For those students who endeavor to write themselves, these readings present models for how a writer should present herself in public," says Dr. Kelly Daniels, one of the series organizers. "The readings also provide a window out of the 'Augie bubble' and into the greater professional world of imaginative writers.
"In some sense, ambitious students may see these readings as networking opportunities. But for most students, we hope the River Readings authors will inspire, even as they show students that even the most successful writers are people, just like the rest of us."
Now in its third year, the River Readings series will bring three writers to campus in 2011-2012. They are poet Gerald Stern on Sept. 29; poet Jill Alexander Essbaum Nov. 30; and novelist Jaimy Gordon, winner of the National Book Award for fiction last year, on April 19, 2012.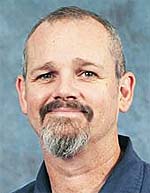 Kelly Daniels
The readers are chosen by an informal committee comprised of Dr. Daniels and Rebecca Wee of the English department, and librarian Margi Rogal. They survey faculty, librarians and students to find out what literary figures the Augie community would most like a chance to see and meet in person. In addition to a public reading, each reader spends time with students in and out of the classroom while on campus.
"The choosing process is somewhat organic - sometime opportunities appear and we quickly react before the door closes," Dr. Daniels says. "But mainly, we aim for excellence and diversity of genre, as well as the identity of the authors. We also take into consideration an author's skill as a performer."
Dr. Daniels heard Stern read his poetry at the famous Prague Summer Program a few years ago. "I found his stage presence absolutely hilarious, even as his poems knocked me right in the gut," he says. "I've long felt that his blend of entertainment and gravity would perfectly suit our students. Besides that, he's in his mid-80s, about as accomplished as one can get in his field, and as lively as a teenager. I believe that we - faculty and students alike - have a lot to learn from someone who's lived as long as Gerry."
Essbaum is sponsored by Lutheran Writers Project. She's a well-respected poet, whose writing delves into matters spiritual and sensual, Dr. Daniels says. "I understand she's a wonderful reader, and the fact of her affiliation only adds to her connection to Augustana. The River Readings hasn't, until now, had an opportunity to see to the spiritual side of Augie's mission, and so Essbaum seemed an excellent choice this year."
He said Gordon is a former mentor, so he knows she communicates well in the classroom. She is a scholar, experimental prose writer, a translator and a teacher.
"Until recently, she's been a "writer's writer," appreciated by a few, but largely unknown," he says. "Then she won the National Book Award last year, and all that obscurity changed... Not all writers are intellectuals, just as not all intellectuals are writers. Jaimy's both."
Dr. Daniels recommends the following works by each of the authors for those who would like to get acquainted with them in advance of their visit:
Gerald Stern: American Sonnets, Norton, 2002
Jill Alexander Essbaum: Harlot, No Tell Books, 2007
Jaimy Gordon: Lord of Misrule, McPherson, 2010
Dr. Daniels urges faculty to create assignments to encourage students to attend the readings "Sometimes a student may not recognize a rich opportunity until it is too late. Professors should lead students to activities they don't realize are good for them," he says.
"I also hope more people from the Quad Cities community will take advantage of what is, in fact, a world-class cultural opportunity."