September 11, 2011
2011 Season - Leazer named to all-tournament team at Rhodes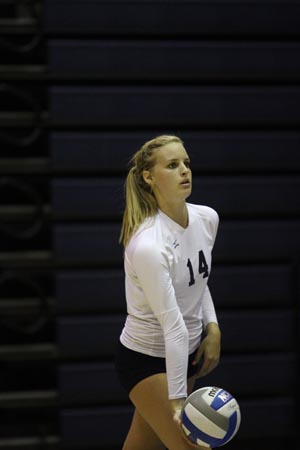 Freshman Emily Leazer was named to the all-tournament team at the Rhodes Tournament in Memphis, Tennessee on September 9-10.
Augustana freshman Emily Leazer (St. Viator HS, Mt. Prospect, Ill.) has made quite a splash in her first two weeks in a Viking volleyball uniform. Over the weekend of September 9-10 she picked up the first significant honor of her collegiate career when she was named to the all-tournament team at the Rhodes Invitational in Memphis, Tennessee.
In four matches at Rhodes she played in 15 games and recorded 48 kills with 17 errors and 123 total attacks for a .252 hitting percentage. She averaged 3.20 kills per game and added 82 digs, seven total blocks and six service aces.
Last week the Vikings took care of Concordia-Chicago 3-0 (25-23; 25-19; 25-19) on Wednesday night and then won their first two matches in the Rhodes Tournament on Friday, September 9. Augustana beat the University of the South 3-1 (20-25; 25-15; 25-11; 25-23) in the opening round and then took Hendrix 3-2 (20-25; 30-32; 25-20; 25-19; 15-4) to close out the Friday session. On Saturday the Vikings fell to Rhodes 0-3 (24-26; 27-29; 16-25) and Millsaps 0-3 (21-25; 18-25; 18-25).
Leazer has played in a total of 36 games, second on the team, and she is averaging 2.53 kills. She has 91 kills, 36 errors and 279 total attacks for a hitting percentage of .197. She has 12 service aces, 151 digs and 14 total blocks (one solo and 13 assists).
The daughter of Ann and John Leazer of Mt. Prospect, Illinois, Emily is majoring in math at Augustana.