September 13, 2011
2011 Season - Tisza named "CCIW Runner of the Week"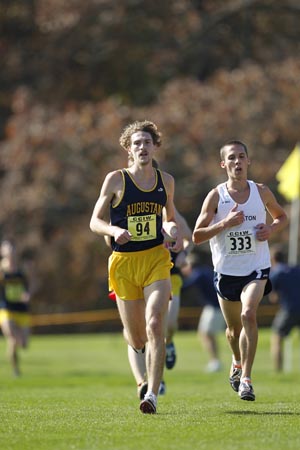 Senior Mike Tisza was selected as the Runner of the Week in the CCIW after finishing second individually at the Luther All-American Invitational on Saturday, September 10th in Decorah, Iowa.
Augustana senior Mike Tisza (Hersey HS, Prospect Heights, Ill.) was selected as the "Runner of the Week" in the College Conference of Illinois & Wisconsin. Tisza's second place finish in the All-American Invitational held at Luther College in Decorah, Iowa on Saturday, September 10th helped the Vikings finish second as a team. The Vikings scored 67 points to finish only one point behind Wisconsin-LaCrosse (66) at the 17-team meet.
Tisza led the Vikings through the four mile course, hitting the chute in a time of 20:35. First place finisher Jack Deichert from Hamline, an All-American last year, won the individual race in 20:34. Tisza, a team captain, was one of thirteen finishers to cover the course in less than 21:00 minutes.
After a stellar junior year in which Tisza was named All-Conference in cross country and the 5,000 meter champion at the CCIW Outdoor Conference track meet, he is looking to build on that success. He and the Vikings will compete at the Illinois Intercollegiate meet on September 16th. The meet, held by Illinois State University in Normal, Illinois, is scheduled to start at 4:15.
Augustana is ranked fourth in the latest U.S. Track & Field/Cross Country Coaches Association Division III Midwest Regional poll, just behind UW-LaCrosse, who is ranked third. Four teams from the Division III Central Regional poll also competed at the meet. Hamline, the number one ranked team in the Central region, finished third with 73 points. Fourth ranked Loras finished fourth at the meet with 127 points. Central Region's seventh ranked St. Thomas (173) and eighth ranked Luther (220) also competed, finishing sixth and seventh, respectively.
Tisza, the son of John and Jan Tisza of Prospect Heights, Ill, is a Biology and English major.