Interns stand out in the Field
By Beth Roberts
September  12, 2011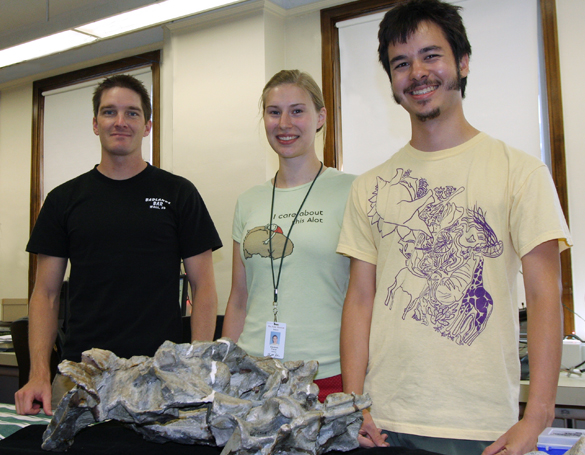 Dr. Nate Smith '03, Elizabeth Fisher '13 and Vernon Meidlinger-Chin '13 with the fossilized skull of Cryolophosaurus ellioti. (Photos by Scott Cason)

Augie Choice, NSF, Field Museum and Ford ... thanks for a great summer
What can happen in a collaboration involving Augustana College, the National Science Foundation (NSF), Chicago's Field Museum and Ford Motor Company? Undergraduate research at its best.
This summer was the second in which Augustana paleontologist Dr. William Hammer used NSF grant money to send two geology majors for internships at the famed Field Museum. Both years, the relationship between the college and the museum was further strengthened by the presence of University of Chicago postdoctoral fellow Dr. Nathan Smith '03, a principal investigator at the museum who worked closely with the interns to teach them fossil preparation. They also learned from Dr. Peter Makovicky, chair of the geology department at the Field Museum and a paleontology professor at the University of Chicago.
The 2011 interns, juniors Elizabeth Fisher and Vernon Meidlinger-Chin, lived in Hyde Park and rode bikes or took the bus to the Field Museum every weekday from early June until mid-August. During that time they took Dr. Makovicky's phylogeny class, worked on specimens in a lab and helped inventory the museum's fossil mammal collection. To help pay living expenses, they relied upon the college's Augie Choice program, which provides up to $2,000 per student to support high-impact learning experiences.
"Everyone benefits," said Hammer of the arrangement with the museum. "The Field teaches them fossil prep and collection management, and gets two good interns they don't have to pay. And I get them trained by professionals."
The interns get invaluable experience doing hands-on work in their field--just the kind of learning Augie Choice is meant for.
When the interns return to campus at the end of summer, they begin applying their new skills to rock-encased fossils filling the basement labs of Augustana's Fryxell Geology Museum. Here, Hammer, chief preparator Josh Matthews and students carefully extract fossils from their rock matrices using tools from fine pin vises to power drills.
---
Augustana's NSF-funded summer geology internships at the Field Museum started in the 2009-10 academic year. Those interns--Jake Crandall '12 and Spencer Hellert '12--co-authored a professional paper, which is featured in the July/August 2011 issue of Journal of Vertebrate Paleontology.
---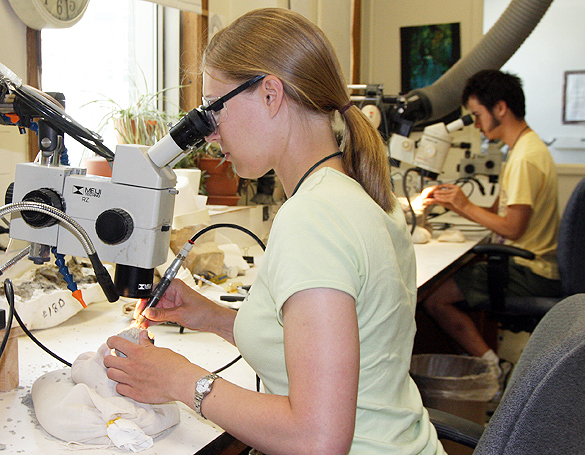 Elizabeth Fisher and Vernon Meidlinger-Chin at work in their lab at the Field Museum.

The backbone of the program
They've had thrilling results for years--ever since Hammer found the first dinosaur on mainland Antarctica in 1990, a discovery that produced an enigmatic carnivore named Cryolophosaurus ellioti (nicknamed Cryo). Just this winter Hammer returned from Antarctica again, followed by a shipment of giant, custom-made crates holding about 5,500 pounds of rock with fossils.
So far, the chunks and boulders have produced more Cryo remnants as well as pieces from a large sauropod and a small ornithiscian, or bird-hipped dinosaur, from the Jurassic period about 190 million years ago. (To compare, Tyrannasaurus rex is 70-65 million years old.) And there's more.
"There is one very odd vertebra that doesn't seem to go with anything from previous seasons," Hammer mused. "Dinosaurs were all very small at that time. There were fabrosaurs and heterodontosaurs [both ornithiscians]--this could be one of those two or it could be something else. It could be a new genus. Check back later."
Better in 3D
These specimens and mammal fossils provided the primary research material for Augustana interns Vernon and Elizabeth this summer. Their new project is to find out more about Cryo based on the anatomy of its brain case.
Vernon remembers first learning about Cryolophosaurus ellioti as a kid, from a book called Dinosaurs of the World. "I think I checked it out from the library probably 2,000 times," he said.
A few years ago, Dr. Hammer and others tried to obtain a CT scan of the Cryo skull--which is mostly intact--using a CT x-ray machine at Trinity Medical Center in Rock Island. However, as the silica of fossilized dinosaur bone is about ten times denser than human bone, that attempt failed.
This summer, the Field Museum's curator of fossil vertebrates, Bill Simpson, tried technology made for stronger material. He brought the skull to Ford Motor Company in Livonia, Mich., to see whether their scanner designed to find defects in engine blocks could penetrate silica. This time it worked.
The intention with scanning the skull is to learn more about the configuration of the dinosaur's brain. Using specialized software, the data still is being formatted in such a way as to make that visual clear. When it's complete, the interns anticipate a working digital 3D model.
"They took slices," Elizabeth explained, "so it's actually two-dimensional--but when you put them together it becomes 3D. Hopefully we'll have something we can manipulate, so we can measure it."
Vernon predicts that once they have the model, they will be able to tell certain things about Cryolophosaurus, "such as whether it had a good sense of smell or sight, where its head would have been held based on the position of the inner ear, as well as--by certain cranial features--where it would have been evolutionarily, in relation to other dinosaurs."
Back to the future
Now that they are back on campus and beginning their junior year of classes, Elizabeth and Vernon look forward to continuing their research in full force next summer. It's very likely this work will form the basis of their geology Senior Inquiry projects.
"The interesting thing about these two is that they are so focused on what they want to do," said Hammer.
Both students came to Augustana specifically for the vertebrate paleontology program--Elizabeth from Virginia, Vernon from Missouri. Vernon had made only one visit to Augustana's campus while searching for the right college, during which he waited half an hour to meet Hammer, who was on the phone.
"When he finally hung up," Vernon remembers, "he said, 'I'm so sorry. That was National Geographic.' I thought, 'Well, OK. That's impressive.'"
Perhaps he and Elizabeth can look forward to similar professional conversations. The world is fascinated by the discovery of truths out of the prehistoric past, and these two have a future in it--if their undergraduate research has anything to do with it.
Contact Augustana Magazine editor Debbie Blaylock by email; by phone at (309) 794-8979; or by mail at Augustana College, 639 38th St., Rock Island, Ill., 61201.